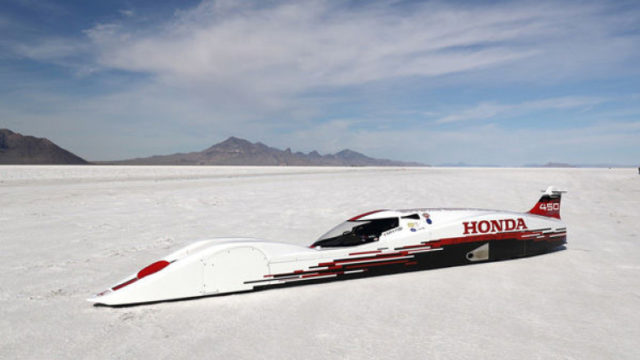 Honda's Earth Dreams VTEC engine has just set a Bonneville Speed Record, using just three cylinders. Found in the all new Honda S660 roadster, the diminutive engine has powered the S-Dream Streamliner over 260 miles an hour. The record setting Honda looks a lot like a rocket on wheels, and its faster than a Bugatti Veyron.
With just 193 horsepower on tap, the S-Dream Streamliner uses aerodynamics and superior engineering to achieve it's incredible top speed. Reaching a new FIA class speed record of 266.875 miles per hour at the Bonneville Salt Flats, the S-Dream Streamliner is all business.
Behind the S-Dream Streamliner
The production version of the Honda VTEC three cylinder engine is rated at 63 horsepower. Honda has reworked the Earth Dreams engine to crank out the impressive record setting performance. The fact that the smaller engine has set a new record confirms the trend of greater output from smaller displacement engines such as the Nissan Zeod.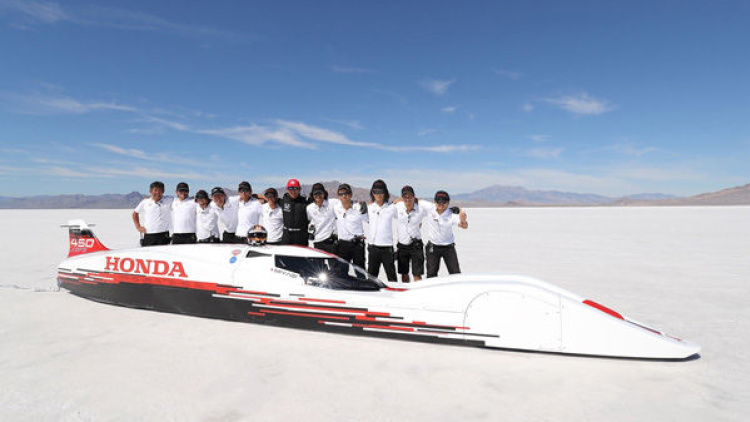 The team behind the S-Dream Streamliner consists of 16 Japanese Honda engineers and 100 volunteers. Their efforts have bested Honda's previous land speed mark, previously held by the Honda Racing F1 team in 2006. The previous Honda was a V10-powered F1 car that averaged 248.548 mph.
When you compare that to the new Earth Dreams three cylinder, you begin to see the incredible feat for what it truly is. Piloted by the Japanese motorcycle racer Hikaru Miyagi, the S-Dream Streamliner is now the fastest Honda car ever. The best Honda engine swap ever? We think so! Honda engine swappers, eat your heart out.
The new Honda Earth Dreams engine is of course also at the heart of the new Civic, as well as the Civic Type R hatchback. There's been quite a bit of hype around the new turbo VTEC Civic, and it doesn't look to die down anytime soon.
What do you think about the record setting S-Dream Streamliner? Leave us a comment below and let us know!