Some of the most popular race videos you'll see online feature the legendary Nissan Skyline. But none are as epic as this high speed showdown GTR race video, featuring a R34 vs a Ferrari Enzo. This highway GTR race video pits the very best of Ferrari versus the Nissan supercar that became immortalized in the Fast and Furious movie franchise.
This GTR race video starts out innocently enough, but turns into a full fledged highway battle in a blink of an eye. The slight edge goes to the Enzo, although it does appear as though the R34 Skyline lost the edge by shifting a tad slowly.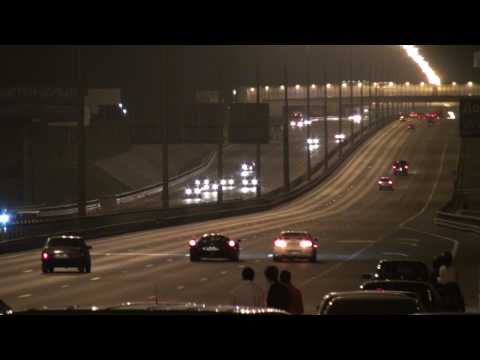 Street racing is of course highly illegal and very dangerous. Never attempt to race on public streets or highways. Having said all of that however, enjoying the occasional race video like this is definitely awesome. Considering the Enzo's high speed capability, it's fair to say that the R34 was highly modified at the very least.
Powered by either the 2.5 or 2.6 liter RB engine, the Skyline GTR is known for it's ability to create copious amounts of horsepower when modified. Upgrading the turbochargers or ditching the twin turbo setup in favor of a single turbo arrangement is one of the most common modifications. Learn more about the RB series of engines in our engine swap guide section of My Pro Street.
Brought to you by a user on Youtube, this GTR race video is incredibly raw. Sometimes race videos are better this way, although a bit of production value is always appreciated. What do you think about this epic GTR Race Video? Think the Enzo deserved the nod over the Nissan supercar? Leave us a comment below and let us know!
For more GTR race video highlights or the latest drift or race videos, subscribe to My Pro Street to get daily updates.