When one thinks about the craziest GT86 or BRZ engine swap, there's a lot of engine candidates that are certainly impressive. From the iconic 2JZ to LS1, these engines are some of the most common when it comes to engine swaps. Not to be outdone however, Ryan Tuerck has just stuffed the V8 from a 458 to create this epic Ferrari powered GT86 swap.
Donut Media brings us the video above, highlighting the incredible build. This Ferrari powered GT86 becomes one of the most epic FR-S or BRZ swap out there. The Ferrari V8 is typically found in the Ferrari 458, producing over 560 horsepower in stock form. Traditionally the engine is mated to a seven-speed dual-clutch transmission, which will no doubt be swapped out for another power train of question.
The 458 V8 gets it's incredibly silky power curve from an aggressive 14:1 compression ratio, and improved camshaft profile for higher lift and airflow. The Ferrari powered GT86 is sure to use a reworked intake runners and ports to help make the engine fit in the diminutive Toyota.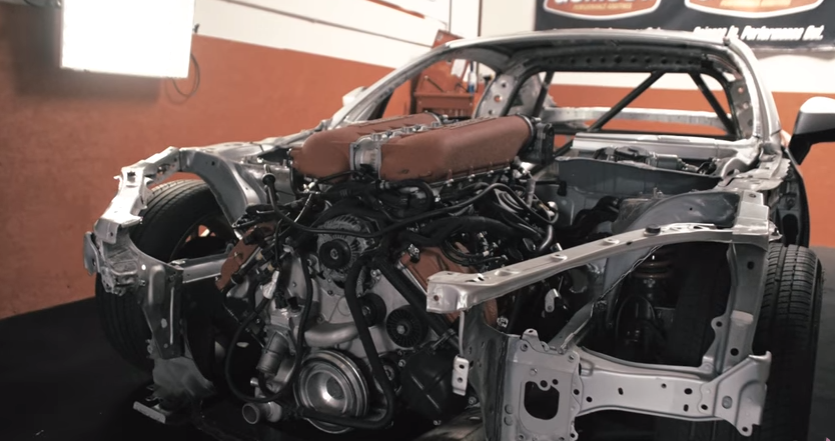 There's not much else known about Tuerck's Ferrari powered GT86 however. Although details are scarce, it's easy to see the level of production and work that's gone into the chassis and swap so far. Although the rear facing intake manifolds may present a problem, this Ferrari powered GT86 just may be the most epic sounding engine swap as well.
Ever since Toyota said goodbye to the Scion subbrand, there's been some speculation to the future of the GT86. If Ryan Tuerck's project is any sign, the future of the Toyabaru twins seems secure. It remains to be seen just how much power the Ferrari powered GT86 will produce in final form, but we're willing to bet it will be outrageous.
What do you think about Tuerck's Ferrari powered GT86? Is there another engine you'd like to see in there instead? Leave us a comment below and let us know! Make sure to subscribe to My Pro Street for all the latest in tech tips, automotive news and videos.