It's been a 100 years of the The Broadmoor Pikes Peak International Hill Climb, and now you can ride along with Rhys Millen. Recently setting a new Pikes Peak record, Millen set the bar high by piloting the Latvian built Drive eO PP03 electric vehicle up the iconic hill. By climbing Pikes Peak, Rhys Millen became the first driver to claim an electric powered overall victory at the PPIHC.
The new Pikes Peak record is a clear sign of the future of race cars and motorsports in general. The PPIHC has been one of the defining benchmarks in automotive performance, and the PP03 electric vehicle is the fastest car in the climb history. The incredible race machine combines the use of a 50kWh lithium-ion battery that powers six individual motors. This combination is good for an estimated brake horsepower rating of 1,368bhp and over 1,500 foot lbs of torque.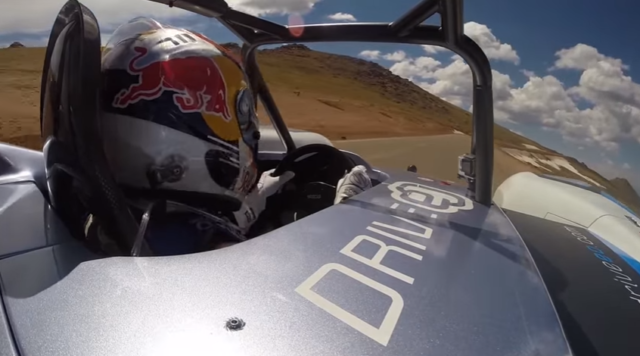 If you've never been in a 1,300 horsepower electric vehicle, at least you can ride along now. The video above showcases the entire run of the new Pikes Peak record. You can ride along with Rhys Millen as he pilots the incredible EV on the record-breaking run. The video is an odd mix of hypnotic viewing, and the lack of engine note is what makes it so unique.
Rhys pilots the all wheel drive electric vehicle up the hill with deliberate skill in relative silence. The Pikes Peak record set by the PP03 is just under a minute short of the overall PP record. The overall Pikes Peak record still belongs to Sébastien Loeb who piloted the hill in his 875bhp Peugeot 208 T16.
What do you think of Rhys Millen's historic and record setting run? Do you think that electric vehicles will overtake traditional combustion engines as the primary power plants of motorsports in the future? Leave us a comment below and let us know, and for more automotive videos and news, subscribe to My Pro Street.