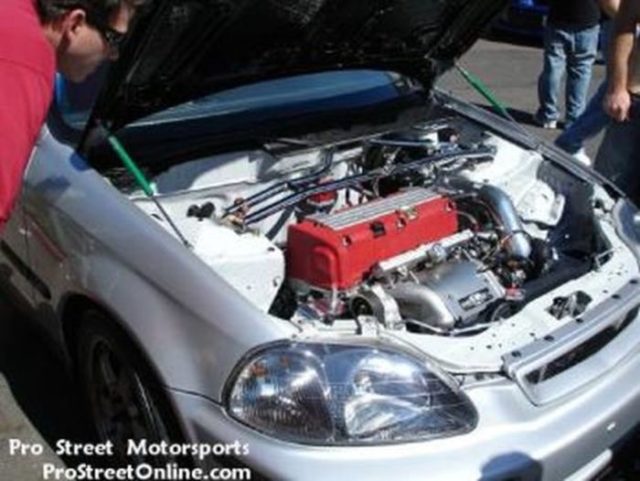 So you are planning a K20 engine swap into your favorite Honda chassis, but you don't know what goes into a K swap. You may or may not have experience with a Honda engine swap, which is why our K Series Swap Parts List is here. This comprehensive guide is meant to show you exactly what you need to swap your K series i-VTEC engine.
Of course if you need a guide on swapping the K20, or a How To Guide to figuring out K swap axles, we can help. Before you begin to plan out your Honda swap however, you'll need a parts list to show you what you need.
This K Series Swap Parts List will show you by section, what goes into a K20 swap and why you need the parts in question. If you have any more questions or comments about swapping a K series engine into your Honda, subscribe to My Pro Street.
This Master K Series Swap Parts List is made and intended for those who aren't sure what goes into a K20 or K24 engine swap. Because the parts list will vary from the DOHC B series engine, the K series engine swap is an excellent choice.
Contrary to popular belief, the K series engine swap isn't as expensive as you may think. Although the price point is still high enough to steer many people to the DOHC B series, the K series represents the cutting edge of VTEC technology. When you are planning a K20 or K24 Civic or Integra Honda swap, use our master parts list to navigate you.
K Series Swap Parts List
K series engine – The obvious part to kick off our K Series Swap Parts List. You'll obviously need a sourced K series engine from a JDM importer or pick one up from a wrecking yard. Depending on where you pick up your K series donor engine, it may or may not come with extras.
Such extras like the engine harness, starter, intake manifold, alternator and even headers can be sold off.
This is a big step for those trying to complete a budget K series engine swap. If you have aftermarket parts in place to replace the stock ones, go ahead and sell off the factory parts to recoup some money.
Your K series swap may come with K swap alternator or charge harness, and maybe even the shifter cables.
K series harness – Whether you are building your own, wiring up your own K swap harness or have one ready, the wiring harness is a big part of any Honda swap. Your K series engine computer requires this harness to communicate and control the fuel delivery and spark events to your i-VTEC engine swap.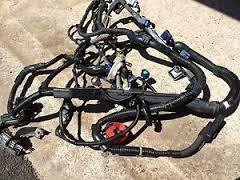 Depending on your plans, you may need the right harness and charge harness for your ECU and chassis.
Of course if you are buying a K swap harness, don't forget about the charging harness or the battery harness. The K series swap harness is required to charge your battery and keep your Honda VTEC swap running. Use our K Series Swap Parts List to compile the parts you need ahead of time.
K series swap mounts – There's definitely a wide range of choices when it comes to mounts. Because this part will largely depend on the chassis you are swapping into, you'll need to shop around to find the best deal.
Finding the best K swap engine mounts is easy to do.
Simply go through the vendors to find the best feedback as far as fitment is concerned.
Stay away from vendors who don't seem to want to help, or don't have a clue about customer service. You want a vendor that will help you through the rough spots and provide you with support.
Conversion wiring harnesses – What used to be a highly overpriced part of the K series engine swap has now become very affordable. Finding the best conversion harness for your i-VTEC K series swap is vital to your Honda swap.
Because this conversion harness changes the signals and electronic interfaces from your dashboard to your transmission and engine, you need the best K series harness available. Doing the right amount of homework behind your swap harness is an important part of the K Series Swap Parts List.
Your dash harness and wiring should bolt right into the conversion harness and give you a plug and play solution from the jump. If you happen to have a K20 from a RSX, you can use our ECU wiring harness here to sort out any questions.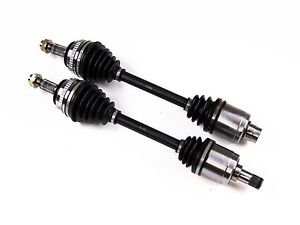 K series swap axles – Finding the right fit is important when you want your Honda swap on the road.
The right K series swap axles will provide you with a way to connect your transmission to your wheels.
There are several vendors that provide different degrees and stages of K series swap axles.
Clutch line – In addition to the clutch master cylinder upgrades to your donor chassis, it's also a good idea to pick up a K series clutch line. The right conversion line will match up to the 8th inch NPT or flare fitting on your clutch lines, and allow you to match up the RSX slave cylinder.
K series swap radiators – To make things simple there's several aftermarket radiators out there that makes your K series swap easy.
Whether you've got a half core or full core radiator, it's an important part of this K Series Swap Parts List.
These K swap radiators put the inlet and outlet at the right locations. As any high performance radiator, these units are made to keep your engine from overheating. Most K series swap radiators will also have the right provisioning for the coolant temperature sender and the K series fan switch control sensor.
Radiator accessories – There's also a few parts that you need for your K series swap. These are vital parts that will make the K swap in your Honda go smoothly. The radiator parts you need for K series swap are listed below:
Radiator hoses – Every K series swap will require aftermarket hoses. This enables you to connect the upper water pipe and the lower outlet to your radiator. When completing your K swap, you will need the highest quality hoses to get your coolant to the radiator.
Relocation Bracket – The K series engine swap is flipped to point the exhaust towards the firewall. It also happens to switch sides, which is why you need a radiator relocation bracket. This will move your K swap radiator to the driver side from your passenger side.
Slim Fans – Most K series swaps will require you to install slim line fans. This keeps the clearance between your fans and your engine clear and prevents things from hitting each other.
Temp Sensor or Fan Switch – Wiring in a permanent slimline fans to your vehicle can be a dangerous proposition. Spend the extra money to invest in a temp sensor or a fan switch. These are parts that control your slimline fans safely by using an automotive relay.
Coolant temperature sensors – If your Honda K series radiator does not have the proper provisions, you can get away with using a radiator hose insert. These inserts allow you to cut open the upper radiator hose, and insert a metal sleeve.
This sleeve is usually CNC machined and has a 8th inch NPT port for coolant temperature sensors. The right K series swap radiator will have the right provisions for both the fan controller and the sensor itself.
K swap fuel rail – One of the most important parts to any K swap, the fuel rail helps to maintain positive fuel pressure. Most K series swap fuel rails will allow you to bolt up the RSX or EP3 fuel system to the chassis of your choice.
Of course if you are installing a new fuel pump or performance pump like a Walbro, it's a good idea to install a fuel pressure regulator.
Fuel pressure regulator – You can get away with a more affordable fuel pressure regulator for your K swap. However if you are intending on installing serious fuel modifications, it may be best to go for a universal FPR like the DWR1000.
The best fuel pressure regulator is important if you want to be able to crank down the pressure properly.
Is your K series swap fuel pressure giving you fits? Too much pressure? not enough fuel pressure in your Honda swap? Check out our primer on troubleshooting your fuel pressure regulator.
Fuel line kit – This part of your K swap will really depend on how far you are taking your fuel modifications. You may need to compress new fittings to convert your chassis fuel lines to AN fittings.
Shifter Kit – The last part of our K Series Swap Parts List involves the shifter box and the cables. Gone are the shift rods that were present in the B series transmissions of the past. The K swap transmission must be run through cables. So if you are intent on swapping a K series into your Civic or Integra, you will need a shifter kit.
These K series shifter kits require you to have a few different parts to it. They are listed below in our K Series Swap Parts List.
Shifter box assembly – Most K series swap shifter boxes will include the base assembly and a template for installation. Because you will need to cut out the shifter hole for your chassis, this is a serious modification that should be done carefully.
Shifter cables – If your JDM or wrecking yard K series engine didn't come with them, you can opt for upgraded shifter cables. As one of the most important parts of our K Series Swap Parts List, you need a good set of cables to connect to your transmission.
Delete kits – There are several different kinds of delete kits for the K series engine swap. Depending on the chassis of choice, the mounts you are using and your hood clearance, you may need one of these delete kits.
K-Swap Air Conditioning Kit – Who need AC? Install this idler pulley kit to eliminate the air conditioning in your K series engine swap.
K Series AC and PS delete kit – These specialized delete kits allow you to remove your K-Series AC and PS. This gives you an excellent choice for fitment and prevents you from modifying or cutting your hood.
K-Swap Power Steering Kit– You can either convert or eliminate the power steering all together using this kit.
Intake – Exhaust – Of course once you've bolted in your K series swap, you are good to go. You will need a cold air intake or one that fits your K series engine. Because most RSX or Civic SI EP3 intakes won't fit your chassis, you may need to get creative.
Of course when it comes to the exhaust side of our K Series Swap Parts List, you'll need a K swap specific header. You can opt for a RSX or EP3 header system, or even an Accord but you'll need a custom testpipe to make your axle back fit.
Miscellaneous part numbers – If you happen to get your parts seperately, you'll need a few bolts to get things connected. Here is the factory Honda part number guide in our K Series Swap Parts List.
90034-P10-A01 X 6 clutch bolts
90011-PNA-B00 x 8 flywheel bolts
22103-PNA-003 pilot bearing
95701-12060-08 x4 tranny bolts
95701-12085-08 x 2 starter bolts
90027-PND-A00 starter bolt long
90025-PNA-000 bolt
95701-08055-08 x 2
90008-PNA-000 x 2 alternator bolts
90008-PPA-000 bolt
95701-06012-08 x 3 bolts
Want more information about our K Series Swap Parts List? Leave us a comment below and let us know! Don't forget to subscribe to My Pro Street to get all the latest in K series swap guides and DIY articles.