Jay Leno's Garage series has been home to some pretty incredible builds, and the latest episode had a special arrival. Building on the success of last season, Jay Leno is quickly making a name as one of the most famous car enthusiasts on the planet. Making it's grand appearance on the CNBC series is the all new Batmobile, ready to kick some serious ass.
Flush off the relative success of "Batman V Superman: Dawn of Justice" there isn't much known about the new Batman movie. What we do know however is that the new Batmobile looks extremely rakish and sporting a complete redesign compared to the previous build.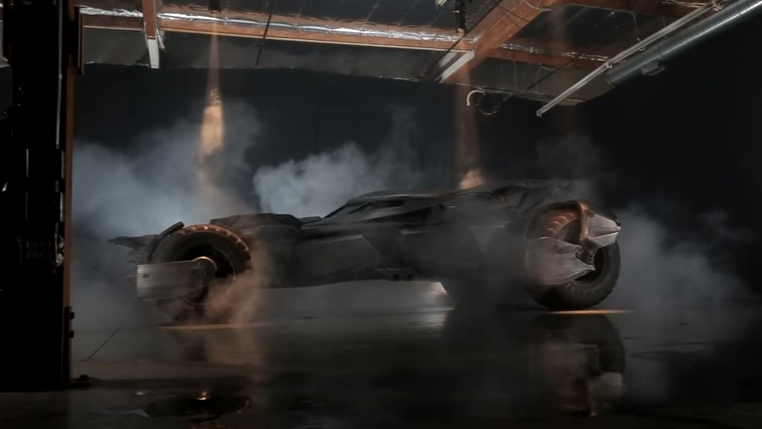 As one of the most badass and recognized movie cars in history, the new Batmobile will be looking to fight crime wherever it goes. Jay Leno's garage has some pretty special rooms in it, dedicated to some of the weirdest and most unique vehicles on the planet.
Rooms like the Lamborghini room or even the steam room are all recognized favorites of the show. Joining them will be the all new Bat room that includes the new Batmobile as it's primary resident. It further goes to cement Jay Leno's standing as a celebrity car enthusiast, and one that drives the television series.
Want more information about Jay Leno's garage or want to follow along for all the updates? Subscribe to the various social networks as shown below.
Facebook: http://facebook.com/JayLenosGarage
Twitter: http://twitter.com/LenosGarage
Instagram: http://instagram.com/jaylenosgarage/
If you are interested in seeing just what Leno has planned for the new Batmobile, check out the latest episode on CNBC. It's just another addition to Leno's already incredible stable of super cars and restoration projects.
Learn more by subscribing and following Jay Leno to keep up with the new Batmobile. If you want more automotive news and highlights, subscribe to My Pro Street for all the latest news.