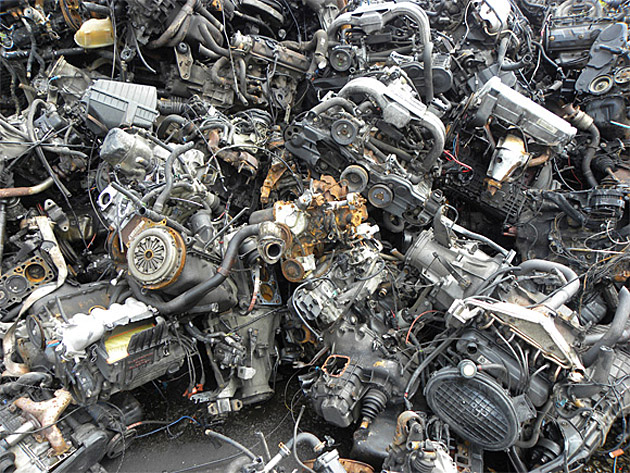 Putting together a homemade turbo kit from junkyard turbos is one of the oldest tricks in the book. Most aftermarket turbochargers can cost you upwards of thousands of dollars. Despite this fact however most enthusiasts don't realize that many of these junkyard turbos are just as good as many of these performance turbos. Don't let people shame you into not building a budget turbo kit, junkyard turbos are an excellent choice.
Today I'll be showing you some of the most popular junkyard turbos to choose from. These are perfect as an aftermarket upgrade, or to build your own turbo kit around. Many of these used turbos are often in excellent condition, and are cheap to buy. You can reference this junkyard turbos list and discover how to troubleshoot or identify the turbocharger through the wheel trims.
Before hunting through junkyards
Before you go hunting for junkyard turbos, take some time to decide what kind of flange setup you want to use. If you have an existing turbocharger setup, you'll need a weld on turbo flange. Many of the popular turbochargers in junkyards come with familiar T3 flanges or a Garrett / IHI style of exhaust inlet.
Identifying the flanges will require you to remove your turbocharger. There's two different types of turbo flange you will need to worry about.
Turbo Inlet Flange – This is the flange that allows you to bolt the turbo onto your exhaust manifold. Depending on the turbo you are after, you may need a custom flange or a weld on one. In some rare cases you can also get away with using an adapter.
Turbo Discharge Flange – You'll need this weld on flange to properly terminate your turbo kit setup. Weld this flange to your downpipe and you'll have the fit and budget turbocharger you've always been after.
This particular discharge flange eliminates the internal wastegate, and requires the use of an external wastegate. Learn more about controlling boost through our guide to turbocharging here.
Popular junkyard turbos
Audi KKK turbochargers – There are several different kinds of KKK (Kühnle, Kopp & Kausch) turbo that are very popular among junkyard turbo browsers. There are many variations of the KKK turbochargers, from the K24 to the K26 found in the Audi 200 and 5000 Quattros.
These smaller K turbochargers use a range of sizes. The K24 is one of the smaller turbos you can find in a junkyard. These require a special turbo manifold flange for mounting the hot side, as well as a the cold side or compressor outlet.
Here's some vehicles that the KKK K24, K25 and K26 turbos can be found in. Many people target this turbocharger for the 280-300 wheel horsepower range.
Audi 200 1988-1991 – K24 or K26
Audi 5000 Diesel Turbo 1980-1988 – K24
Audi 5000 Quattro 1980-1988 – K26
Audi S4 Quattro 1992-1994 – K24
These K turbos are rated at different configurations and boost levels. If you are intent on building a turbo kit from your K24-K26, keep in mind you need water lines to the center cartridge.
Audi K03 Turbochargers – Popular for junkyard turbo builds, the K03 and K04 turbos are very efficient for moderate boost levels. Much like the K24 family of turbochargers, these are best meant for internal wastegate configurations.
Audi S4 Biturbo 1989-1999 K03
Audi S4 Biturbo 2.7 / 1.8 L KKK K03 hybrid
Audi TT 1999+ KKK K04
Mazda IHI Turbochargers – There are several different variants of the IHI turbos found in popular Mazdas. These junkyard turbos are excellent choices for homemade DIY turbo kits. Depending on the model you choose, there's a good chance you may land a ball bearing IHI turbo.
These Mazda junkyard turbos are found in a variety of vehicles. Here's a few of them below when you are on the hunt for the turbo you want.
Mazda 626 2.2L 1988-1992 IHI RHB52W
Mazda MX6 1988-1992 IHI RHB52W
Mazda 323 GTX 1988-1989 1.6L IHI RHB52W
Many of these IHI turbos are water cooled, which will require new water lines for a turbo kit. There are many different sizes and wheel trims for the IHI RHB52W turbocharger. Some of which are as small as 39.5mm/56mm to 45mm/56mm.
Of course some of the most popular Mazda turbos are the ones found in the RX-7. The earlier RX-7 from 1988-1992 is known as the FC3S, and the model from 1993-1995 is called the FD3S. The later model RX-7 used an extremely powerful T04Z turbocharger, which makes for a nice choice as the junkyard turbos for your homemade turbo kit.
Mitsubishi Junkyard Turbos – With over a decade of building turbocharged vehicles in the US, Mitsubishi has some of the most popular choices when it comes to junkyard turbos. These can range in power and delivery, and like other makes and models, there's quite a few variations of turbocharger to be found at your local wrecking yard.
These are also water cooled turbochargers, and can look alike to the casual observer. These turbos are good for the 300 horsepower range before boost levels rise to well outside their efficiency. Shown above are the Mitsubishi 14B turbo and the 16G.
From the outside these turbochargers look exactly the same, and the only way to identify them is to look axially into the turbocharger itself.
Mitsubishi Eclipse / Eagle Talon / Plymouth Laser turbo – Automatic transmission – 1989-1994 – TD04 13B.
Mitsubishi Eclipse / Eagle Talon / Plymouth Laser turbo – 1989-1994 – TD05H 14B
Mitsubishi Eclipse / Eagle Talon TSI – 1995-1999 – Mitsubishi Heavy Industries T25
Mitsubishi Galant Turbo – 1988-1994 – TD05H 14B
Mitsubishi Starion – 1985 – 1987 – MHI TD05 16G
Mitsubishi 3000GT VR4 – MHI TD04H
Mercedes Garrett Turbochargers
These are some of the more interesting mixture of junkyard turbos you'll ever come across. Some of these TA and TB turbochargers are manufactured by Garrett and others have components made by KKK.
Not only does the discharge flange here look unique and fairly hard to locate, but you'll also need a T3 or T25 sized turbo inlet flange as well. You can find these junkyard turbochargers through a variety of Mercedes turbo diesel vehicles.
Mercedes-Benz 300 D 1978-1984 Garrett TA0301
Mercedes-Benz 300 SDL 1978-1983 – Garrett TA0301
Mercedes-Benz 300 SDL 1986-1987 – Garrett TA0359
Mercury Garrett Turbochargers
Much like the Mercedes turbos, these are found in a wide range of Mercury vehicles. Like the older Mercedes diesels, these Garrett turbos are durable, resilient and excellent as the centerpiece of any DIY turbo kit.
Mercury Capri 1985-1986 Garrett TB0344
Mercury Cougar 1985-1986 Garrett TB0344
Merkur XR4Ti – 1985-1988 Garrett TB0344
Buick Garrett Turbochargers
From the Buick Grand National to the Monte Carlo and more, there's plenty of junkyard turbos to choose from. Many of these are still Garrett so the same T25 style inlet flange will do just fine.
Buick Grand National – 1987-1988 – Garrett TB0348
Buick Monte Carlo – 1978-1983 – Garrett TB0348
Buick Regal  – 1978-1983 – Garrett TB0348
Buick Riviera – 1980-1985 – Garrett TB0308
Buick T-Type – 1986-1987 – Garrett TB0308
Buick Century – 1978-1981 – Garrett TB0308
Want to learn more about junkyard turbos? Have a turbocharger from a wrecking yard that you aren't sure about? Leave us a message below and let us know! Make sure to subscribe to My Pro Street to get all the latest in tech tips and automotive news.