We are proud to announce we are now stocking Vogtland springs. These springs are made in Germany and produced by Vogtland. As one of the leading suspension companies in Germany, they built their success racing the parts they made.
Manufactured with chromesilicon construction process, these Vogtland springs are excellent choices for anyone, and now we've got them on the shelf and ready to ship. Want to know what makes Vogtland springs better than the rest?
Vogtland tailors the ride height to ensure that the vehicle provides a lowered and aggressive appearance. This is done but the car will still maintain the appropriate ride height for the suspension to function properly.  their engineers perform and document all quality checks and prepare the TÜV homologation for its approval.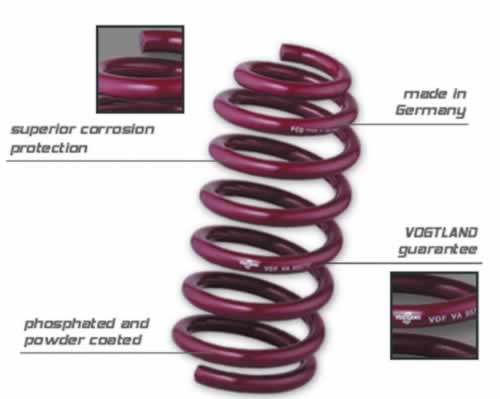 Want to know more about Vogtland springs? They also happen to be one of the main suppliers for NASCAR. From 1999 Vogtland has delivered the springs that many of America's most famous racers drive on.
And that's not all, Vogtland springs also happen to appear in various OEM makes and models. Vogtland is a leading international supplier of high performance components and suspension parts.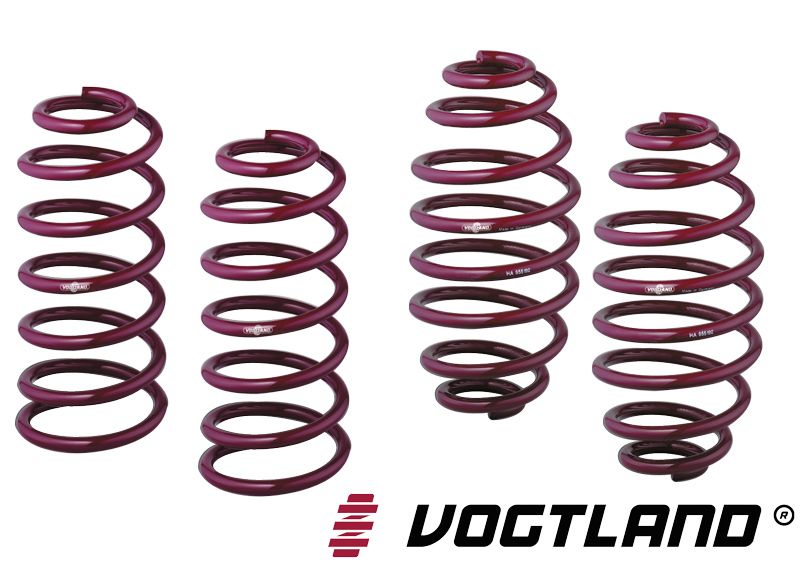 From industrial grade springs to customized suspension solutions, Vogtland is one of the best. Pro Street is proud to announce we are now stocking vendors, so give us a call to or email us to check inventory. The Vogtland springs are some of the very best whe nit comes to overall torsion strength and longevity.
The catalog of Vogtland suspension products range from lowering springs, sport suspension kits, as well as height adjustable kits. They also have a North America branch which is what makes them so responsive to customer support requests.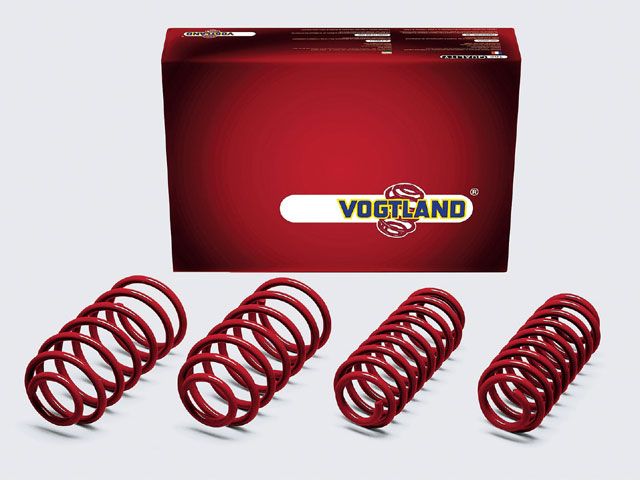 Available in two different trims, Sport and Race the Vogtland springs are known for their robust spring rate. Reliable and consistent, stroke after stroke, the Vogtland springs give you the proper preload needed for your suspension to work properly on any given surface.
What makes Vogtland springs good?
In one simple word, it's their chrome silicon alloy which is the material their lowering springs are made of. This alloy is known for it's strength and durability, and the ability to rebound the same way, every way.
These chromesilicon springs are designed to provide optimum preload condition. It's this preload or the tension under which your suspension springs ride during normal operation that makes the ride. Too much preload and the ride is too rough and the car will bounce, too soft and your car may bottom out.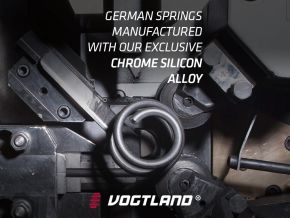 Each Vogtland sport spring is properly calibrated for the year, make and model you own. Properly wound for the preload you want during normal and high speed operation, these springs provide you with the right you want and the drive you need. Vogtland springs are made to last, and specifically wound to two rates that provide optimum performance and handling.
The Vogtland sport springs let you lower your car between 25 – 60 mm or .9 inches to 2.4 inches. All spring sets are sold as complete sets and meant for ideal suspension function no matter where you are.
Want to learn more? check out our online website and discover the difference these springs can provide. Find the best deal for your chromesilicon Vogtland springs and lower your car today.