If you have been following Hoonigan Racing's Ken Block and the World Rallycross season, you know all about the Project RX Focus. The Focus RS RX is a remarkable machine that's put the the partnership with Ford Performance at the forefront of the legendary drift series. Ford has recently released the footage with Ken Block getting to drift Project RX through the paces.
The build speaks to the hard work and incredible amount of prep work put in by the team at Ford and Hoonigan Racing. The duo of Ken Block and Andreas Bakkerud have piloted the drift Project RX into a final in three events so far. Recently released this video shows off the first time Block got to pilot the drift Project RX around the track.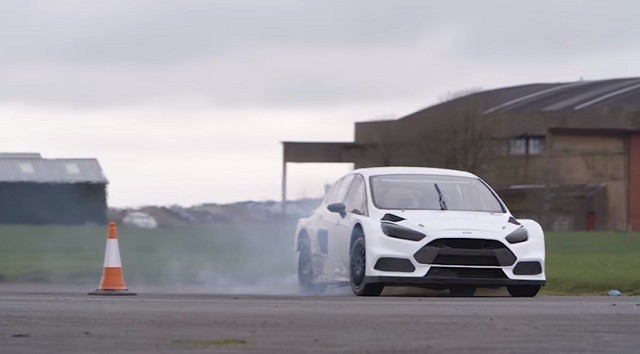 You can watch the iconic Gymkhana drifter settle in and familiarize himself with the drift Project RX. Ken Block goes through the machine and provides vital feedback to Ford engineers. You can see that it's a true process between driver, mechanics and engineers that culminates into this cohesive effort. Think that Ken Block hasn't been itching for this moment?
"It's been such a long project in development [with] so many people involved and it's been really a cool experience to get to this point. Seeing the car in the flesh for the first time ever was amazing."
Block puts the drift Project RX through a shakedown run, shown off in the video above. Ford throws quite a bit of production value into this drift video, featuring the drift Project RX in slow motion through several corners. In the end, it looks as though Ken Block is fairly impressed, with the ability to handle the makeshift track built at the historic Kirkbride Airfield in the UK.
So far the performance that the drift Project RX has put down has been impressive. With Ken Block and Andreas Bakkerud piloting the drift Project RX to one podium finish and three Final appearances thus far. Only time will tell if Ford will succeed in their quest for a WRC title however.
Want to learn more about the drift Project RX or follow along with Ken Block and Ford Performance in the World Rallycross season? Subscribe to My Pro Street today.