One of the oldest names in Japanese tuning, HKS has just upgraded their lineup of V3 GT superchargers. Their dedication to supercharged performance has developed to one of the best bolt on modifications for the Scion FR-S. Their latest upgrades to the HKS Supercharger Kit has raised the performance bar, with the FR-S / BRZ supercharger increasing power.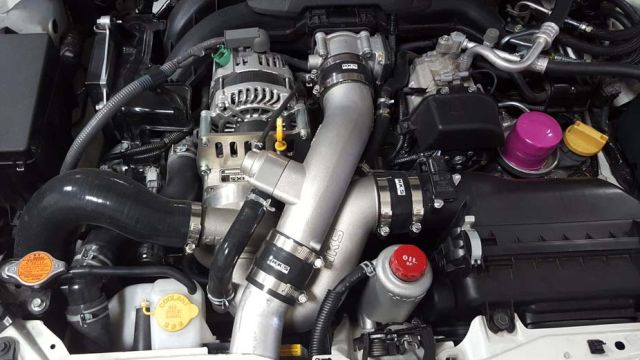 The new HKS Supercharger Kit upgrades airflow with an upgraded intake pipe. HKS further eliminates the restrictor plate to allow for more airflow and compressed boost. These changes are coupled with a larger supercharger pulley that increases the boost slightly to the FA20 engine in your FR-S or your Subaru BRZ.
The larger pulley in the HKS Supercharger Kit allows the FA20 engine to build boost more evenly. This results in a more efficient operation and lower intake temps, which improves power and response across the RPM band. The slower speed in which the larger pulley spins the supercharger creates less heat, which is a problem with other FR-S supercharger kits.
HKS Supercharger Kit Dyno Numbers
These changes have upped the performance bar by quite a bit, which can be shown in the HKS Supercharger Kit dyno sheets below.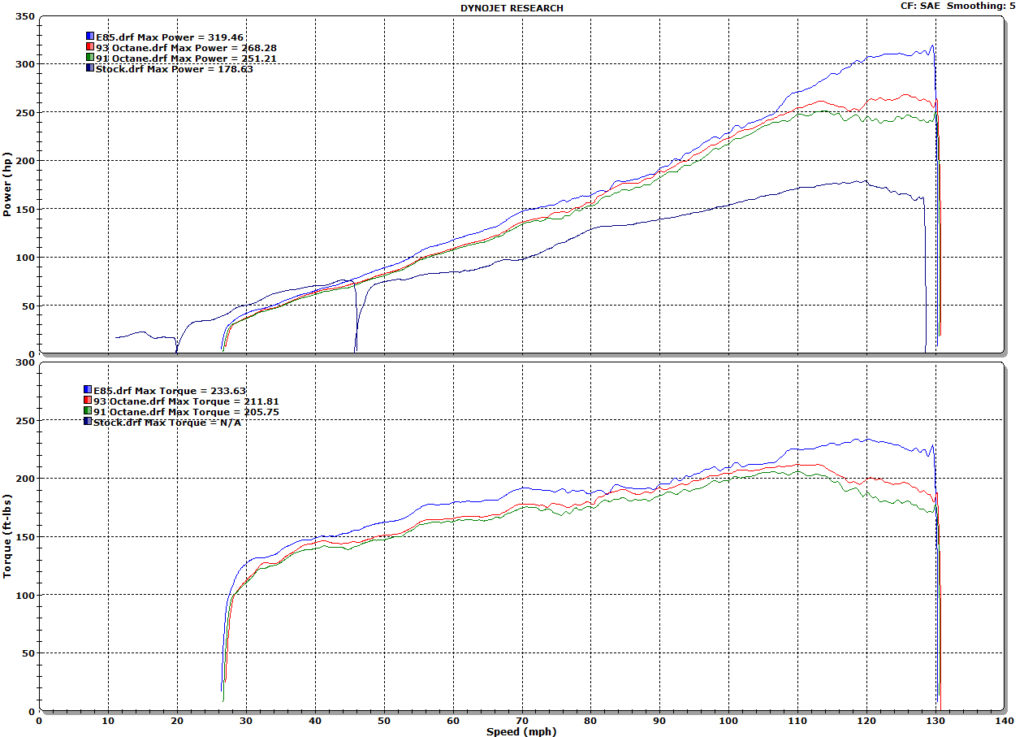 The three dyno plots above work out to these numbers for a FR-S with a HKS GT V3 supercharger :
Stock, HKS Intake, Headers, Exhaust – 179 hp peak
91 Octane, HKS I/H/E & Supercharger Kit V3 – 251 hp / 212 lb-ft peak
93 Octane, HKS I/H/E & Supercharger Kit V3 – 268 hp / 211 lb-ft peak
E85, HKS I/H/E & Supercharger Kit V3 + 900cc Injectors – 319 hp / 234 lb-ft peak
In addition to these changes, the HKS Supercharger Kit now includes a Flash editor that allows you to easily upgrade and tune your ECU. The engine computer unit in your FR-S and BRZ can be easily tuned, giving people a far more reliable experience than a turbocharged setup.
The all new BRZ/FR-S V3 Supercharger Kit comes with two part numbers, which are shown below
12001-KT003 (w/out Flash Editor)
12001-KT003A (w/ Flash Editor)
The HKS flash editor is an aftermarket tuning computer, and it will come with the fuel and ignition changes you need. This makes the HKS Supercharger kit for the Scion FR-S and Subaru BRZ a complete bolt on affair. The HKS Supercharger Kit flash program comes available with a 91 octane tune and a E85 tune. For those people who live in a state with 93 octane, a custom tune can be requested through your HKS Pro dealer.
Additional changes to the HKS Supercharger Kit include a redone mounting bracket for improved pulley clearance. People who own the older HKS supercharger kit who are looking to upgrade the pulley must also upgrade this bracket.
Have any more questions about the all new HKS Supercharger Kit? Head over to our online store to see it in action or watch the video above. Don't forget to subscribe to My Pro Street for all the latest in tech tips and new product reviews.