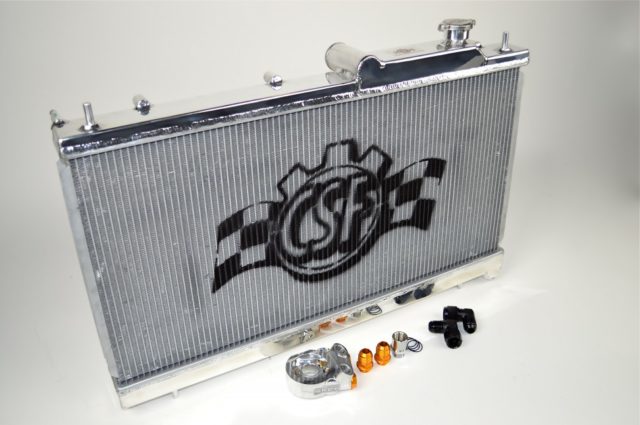 CSF Racing is a name well recognized in performance circles as one of the very best radiators you can buy. Working together with Snail Performance, CSF has just released their all new Subaru CSF Race Spec Radiator. This new radiator combines the efficient CSF oil cooler into the first of many CSF Race Spec Radiators to come.
This radiator is designed to fit manual transmission equipped Subarus and it puts the power of an oil cooler and radiator into a small form factor. At the core of the new CSF Race Spec radiators is the wildly successful "O" Series radiators.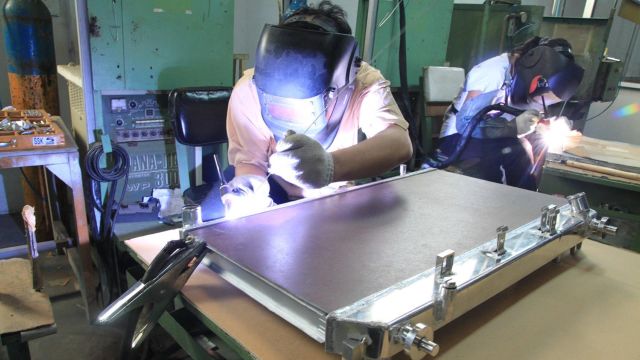 As the first entry in the CSF Race Spec series, the Subaru radiator fits 2002-2007 Subaru WRX and STI applications. Not only that but the new part number 3076O also comes with a machined thermostatic sandwich plate made by Greddy. The new CSF Race Spec also comes with 90 degree -10 AN fittings.
At the heart of the CSF race spec series is a innovative 2-row 42mm core that maximizes CSF's exclusive B-tube technology. Not only that but the fins are engineered to an extremely efficient 6.5mm multi-louvered angle which gives the new radiator maximum surface area.
The oil cooler is 4-plate liquid-to-oil plate style that's mounted to the bottom end tank. The liquid to oil cooler style is far more efficient than a typical air cooled oil system. CSF also proved the performance of the oil cooler in their lab, showing their CSF race radiator to combat oil breakdown and keep your engine safe under the most extreme conditions. In fact CSF says that their new race spec cools oil faster than a 10 row air heat exchanger.
With a quick open petcock for easy draining, the CSF race spec radiator is topped by a 20 psi CSF radiator cap. One of the most affordable oil cooler radiator combinations on the market, the CSF race spec cooler is also designed as a bolt in plug and play unit.
Machined to accept all the factory mounting locations and stock fan shrouds, the CSF race spec installs in minutes. The new CSF race radiator is polished for that car show shine and provides a finish that's befitting of the high performance radiator.