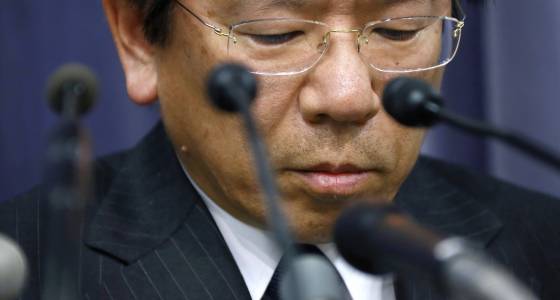 Tetsuro Aikawa will resign from his post as Mitsubishi president on June 24th according to recent reports. The former president of Mitsubishi Motors steps down to cap a wild week of activity and news for the Japanese manufacturer. With just two years under his belt as the Mitsubishi president, Aikawa leaves along with executive vice president of quality control Ryugo Nakao.
Aikawa's departure comes on the heels of Nissan acquiring controlling stake in Mitsubishi. MMC also released a statement on their website to announce the shake up at the top.
"Mitsubishi Motors Corporation has caused tremendous trouble and concern to our customers and all of our stakeholders," the statement said, referencing Mitsubishi's recent fuel economy scandal. Considering this, Mr. Aikawa and Mr. Nakao decided today that they will resign."
Mitsubishi will announce the replacements and a new Mitsubishi President after an upcoming board of directors' meeting. Needless to say it's another page in a sad chapter of Mitsubishi's collapse. The Japanese automaker has take huge hits to it's reputation stemming from cover-up to fuel scandals.
It's recent collapse has led to US Mitsubishi dealers falling on hard times. It's also caused the discontinuation of the Mitsubishi Evolution, one of the most iconic cars in their stable. And from the looks of things, the executive shuffle might not be over. Mitsubishi CEO Osamu Masuko will stay on as Nissan completes it's purchase of the controlling stake in Mitsubishi.
Aikawa also released a statement to the Automotive News recently regarding his resignation as Mitsubishi president.
"For causing trouble and worry first and foremost to our customers and to all involved, I take responsibility,"
The impact of Nissan's acquisition could turn around Mitsubishi's fortunes, but only time will tell. The purchase of 34 percent of Mitsubishi's stock should be finalized before the end of the year.
Want more news and information about the Nissan acquisition? Subscribe to My Pro Street for all the latest tech tips and automotive news.