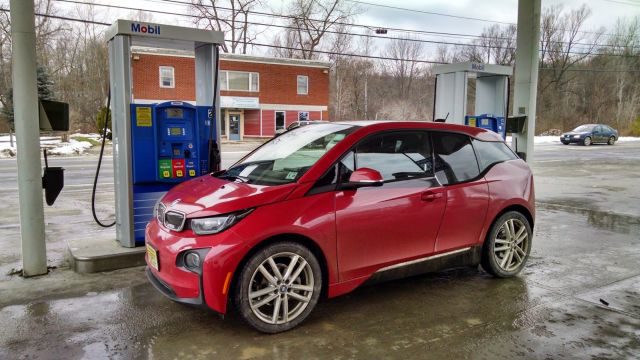 The race to the 200 mile range threshold has been heating up among electric vehicles. Many of the new EV's coming in the new year feature larger batteries with greater capacity to help achieve this goal. And to this effect BMW has announced that the all new 2017 BMW i3 will come with a 33-kWh battery.
The upgraded batteries provide a rock solid extension of 81 miles worth of range, compared to the 22kWh versions available now. This represents a total range of 114 miles which is still a touch behind some of the competition but is a good start for the diminutive BMW. The best part of the 2017 BMW i3 is that the new batteries use the same form factor, but gives you more than 50 percent more power.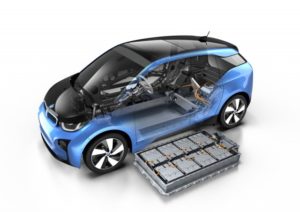 The new 2017 BMW i3 will be available as the i3 as well as an extended range model known as the i3 94 Ah. The extended range version will come with a 94 Ah battery to provide more range than the typical version.
The performance aspect of the 2017 BMW i3 will remain largely unchanged. At 170 horsepower from the synchronous electric motor help power the BMW i3 from 0 to 60 mph in just over 7 seconds.
BMW claims that this makes the 2017 BMW i3 the most efficient vehicle in the segment. With an EPA electricity consumption of 27 kWh/100mi, coupled with the sporty performance the 2017 BMW i3 also features some small updates to the interior.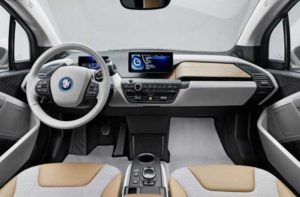 The changes are minor but add to the overall aesthetic of the 2017 BMW i3.
With additional software upgrades to help the driver recognize real time battery conditions and existing range, the BMW infotainment system offers more value than the current models.
There are other upgrades to the 2017 BMW i3 that give users more charging performance. The i3 will now come with what BMW calls the Home Charger Connect. This residential charging station combines fast charging from your home, and makes it easy for any homeowner to recharge.
On top of the Home Charger Connect, the 2017 BMW i3 will come with a slightly larger fuel tank. Upgraded to 2.4 gallons, the fuel tank gives the i3 more range that the 2017 BMW i3 two cylinder gasoline engine will switch to once the battery life falls under 7%.
Best Electric Vehicles Under $25,000
So you want to make the switch to electric and you aren't looking back. Whatever the reason behind your decision, to save money, stop supporting big oil, or you are tired of the heavy influence oil has on our foreign policy, you want to buy a electric vehicle.
And really who can blame you? Technology continues to push electric vehicles and improve performance and range with each passing year. There's now a bigger market for electric vehicles than ever before, as evidenced by many of the new cars you can buy in 2015.
But many of the latest and greatest electric vehicles still have price tags that are more reflective of our technological limitations as opposed to anything else. The BMW and Mercedes-Benz entries into the Electric Vehicle (EV) segment are relatively affordable for electric vehicle standards, but still push the price break well above $40,000. If you want something like the Tesla Model S P85D, it's going to cost you well over six figures making it a pipe dream for most consumers.
Technology is quickly catching up to the demand for an affordable electric vehicle, because over the past 12 months there's been several new entries to this segment. Combine this fact with the increases to federal and state rebates, and many of these new electric vehicles check in well under the $25,000 dollar mark.
This list is comprised of the best 2015 electric vehicles that you can buy under $25,000 dollars. This list uses the federal and state rebates and any incentives to factor the price shown. Your state or region may have more or less tax rebates or incentives in place, make sure to check with your local regulatory laws as they pertain to electric vehicles.
Volkswagen's all new e-Golf first made it's appearance in 2014, and also makes the Ten Best Cars of 2015 list. Armed with a 84 mile range, the e-Golf can last 126 miles in the city according to EPA estimates.
Winner of the 2014 Motor Trend Car of the Year, the electric Volkswagen e-Golf is also pretty affordable, checking in at $25,150 before any state or federal tax incentives.
2
2015 Ford Focus Electric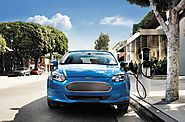 One of the older models on this 2015 list of best electric vehicles, the Ford Focus Electric has an electric range of 76 miles, and combined mileage of 105 mpg. Ford reintroduced the Focus Electric for the 2015 model year by slashing prices by 6,000 dollars which puts this electric vehicle right in our wheelhouse.
For an exceptionally reasonable price and a few years under it's belt, the Ford Focus Electric at 22,750 represents a great buy. Federal rebates can push this price into the low $21,000 dollar range, and if you live in Georgia or California the price can go down to around 20,000 dollars.
Dominating the sales numbers last year, the Nissan Leaf has been a commercial and critical success for the Japanese automaker. Rated as the fourth best fuel efficiency rating in the US at 114 miles per gallon, the Leaf can go 84 miles on battery alone.
With a final sticker price of $21,000 dollars, consumers can apply the federal rebate for a sub 20k electric vehicle. People who live in Georgia can really benefit from the state rebate, which offers up to $5,000 dollars, making the Leaf a truly great electric vehicle.
Shocking the automotive world, the Kia Soul EV was well received as the new kid on the electric vehicle block in 2014.
Since then the quirky little crossover has broken into the top 10 in fuel economy with the equivalent of 105 miles per gallon combined.
Boasting a range of 93 miles on a full charge, the Kia stands as the second best efficiency mark of any electric vehicle in the US.
The Kia Soul EV sits just above our water mark for this Best 2015 electric vehicles list, with rebates putting the price tag at 26,000 dollars. You can combine your local state incentives to get this figure well under 25,000 dollars, depending on where you live.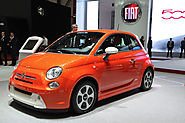 Currently only available in California or Oregon, the Fiat 500e Electric vehicle is a great value if you are looking for a new electric car. Priced at $24,800 before any rebates or state and federal incentives, the price in California dips further to $22,300.
This funky little hatchback features an electric range of 87 miles and a combined range of 116 miles with gasoline. With the great price tag, there's a harder true value on this list than the Fiat 500e.
6
2015 Chevrolet Spark EV
Leading the way for GM's continued efforts to reinvent themselves, the Spark EV has been well received by critics and consumers alike. With a sub $20,000 dollar price tag that can dip well under 17,000 with federal incentives, the Spark EV boasts 119 mpg combined.
Electric motor range peaks at 82 miles on a full charge, Chevy's new Spark EV is a sure fire contender on the frontier of EV vehicles.
May 07, 2015 - my.prostreetonline.com -

116

The topic of sustainability and minimizing your carbon footprint have never been more present in our society. Saving the Earth and taking care of our planet have become popular and embraced aspects of our cultural evolution.
Consumers have never been more responsible and conscious in comparing products and corporations, in regards to lowering emissions and waste.
Not sure about electric vehicles or maybe have some doubts about charging system infrastructure? Take a look at the top 10 efficient cars for sale in 2015.
8
2015 Smart Electric Drive
A throwback to fuel efficient vehicles in generations past, the Smart Electric Drive is a minimalist approach to electric vehicles. You won't be able to give all your friends a ride, or do much shopping but for $18,000 dollars you'd be hard pressed to find more value.
Excellent electric vehicle performance at 122 city miles per gallon, although the electric motor underwhelms with a 68 mile range.
Really though, federal rebates will push the price point for the 2015 Smart electric vehicle well under the 17,000 dollars. Combine with your state incentives to make a truly smart decision when you want to check out 2015 electric car reviews.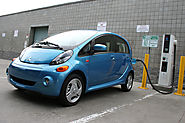 With a EPA estimated 112 miles per gallon, the Mitsubishi i-MiEV is one of the most unknown electric vehicles for sale in America. If you are in the market for a budget electric vehicle that will get you from point A to point B the Mitsubishi i-MiEV could be the EV for you.
Post rebates put this diminutive hatchback well under $15,000 dollars, which is easily one of the most affordable electric vehicles on this list. Underpowered from the electric motor standpoint, the i-MiEV can only eek out 61 miles on a single charge.
Want to learn more about the 2017 BMW i3? Subscribe to My Pro Street to get all the latest tech tips, car reviews and How To Guides.