When your engine needs the ultimate in spark and ignition control, you need an advanced ignition controller. Many of the latest spark control units are highly evolved, using high speed USB and microSD cards to provide you with a powerful ignition system. The MSD Power Grid Controller is the latest in high end ignition units and it's now available for sale.
Using a 32 bit microcontroller, the all new MSD Power Grid Ignition System is the flagship MSD 7-Series Ignition controller. The new Power Grid uses MSD's latest programmable software in the MSD View and connects easily to your laptop through a USB cable. The MSD Power Grid eliminates messy wiring and makes installation a breeze through the CAN-BUS technology.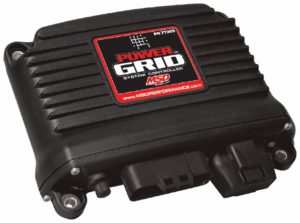 By simplifying the installation and wiring through the CAN-BUS harnesses, the MSD Power Grid can clean up your engine bay and increase spark.
For those racers using the Racepak Data Recorder or other Racepak parts, you can quickly and easily connect to the new MSD Power Grid.
The MSD Power Grid has a wide range of features that allow you to step up your ignition system. These features can seamlessly integrate into your engine and ignition coils. The  high speed RISC microcontroller inside the MSD Power Grid can easily control your engine ignition. Using various sensor inputs to analyze your RPM, launch, burnout, step wires and trigger signals.
MSD Power Grid Features
Timing based on engine rpm and gear value
Advanced individual cylinder timing based on gear or time
Crank Trigger system highly recommended
Five retard stages for nitrous
Four steps of rpm limits for burnout, spool, launch and overrev
Output switch set on rpm, pressure or time
Shift light settings for each gear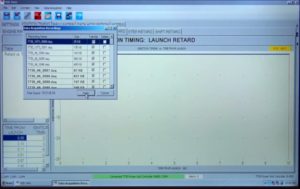 The Power Grid System Controller, PN 7730 / PN 77303, should be used with the Power Grid-7 Ignition Control. This is also known as part number 7720.
But that's not all, the new MSD Power Grid system can also be used with other MSD Ignitions such as the 7AL-2, MSD 8-Plus, and the Pro-Mag boxes.
If you are using the all new MSD Power Grid with the older boxes however, you will need a Soft Touch Rev Control that uses the RPM pills.
The Windows based software is designed with tabs to help racers easily select different programming windows and parameters. Also, the data acquisition files of the ignition are now captured on a micro SD card for ease of storage and reviewing.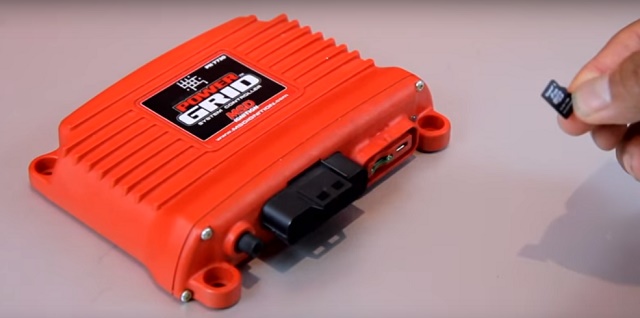 MSD Power Grid Wiring
Wiring up the MSD Power Grid is easy to do with this Power Grid wiring schematic. Let's begin with PIN 15, which is a RED wire. This should go to your 12V switched wire from your ignition. The next wire should be PIN 18, which is the tach output for your MSD Power Grid. This is a GRAY wire and it supplies a 12 volt square wave tach signal.
Once you have power supplied to the group of loose wires in your MSD Power Grid, you must wire up the 4 pin connector. This is also known as the MSD part number 7720, or the Power Cable. The first wire here is PIN 16, the BLACK wire for ignition ground. The second wire is PIN 17 or the ORANGE wire for constant battery power. The third wire in the four pin grouping is PIN 33 or the YELLOW wire with a WHITE stripe in it. This is the TRIGGER OUT wire. Lastly the ON / OFF switch wiring is coming from PIN 34, or the RED wire for switched 12 volt power out.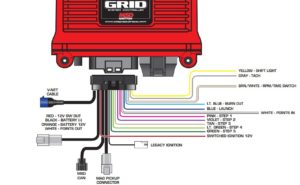 Check out the rest of the wiring diagram above and reference it against this list of loose wires that must be connected for the MSD Power Grid.
WHITE WIRE – 32 – POINTS IN Trigger input from electronic ignition amplifiers, an ECU's trigger points.
YELLOW WIRE – 1 – SHIFT LIGHT Shift Light output wire. It can handle up to 3 amps continuous to ground when enabled.
LIGHT BLUE WIRE – 4 – BURN OUT Burnout Rev Limit. When 12 volts are applied the Burnout Rev Limit is active. This disables the Slew Rate rev limits and overrides other rev limits. It is recommended to have this wire switched from an outside source, such
as the crew chief before the burnout and while staging the car.
DARK BLUE WIRE – 21 – LAUNCH This wire activates the Launch Rev Limit
BROWNN/WHITE WIRE – 19 – RPM SW RPM/Time switch output wire. It can switch up to 3 amps continuous to ground when enabled.
Have any questions about the all new MSD Power Grid system? Check it out in our store or leave us a comment below!