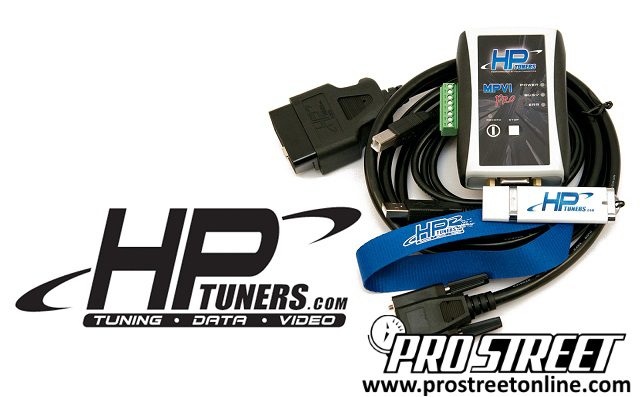 One of the biggest names in aftermarket tuning, we are now stocking a full range of HP Tuners products. Known for their VCM Suite of tuning products, HP Tuners unlocks the potential in your engine computer. No matter if your car or truck is stock or heavily modified, the tuning computers from HP Tuners can increase horsepower and fuel economy. These computers are also known as aftermarket tuners, and plug and play into your vehicle's Powertrain Control Module.
Aftermarket tuners come in a variety of shapes and sizes, so it's important to know how to shop for the right one. When you need a comprehensive solution that gives you the power and flexibility you need, there aren't many that match up with the VCM Suite. The VCM Suite gives you the ability to tweak and adjust every aspect of your vehicle.
When you are bolting on parts like a cold air intake, or exhaust system you need to adjust your fuel and ignition maps to match. No matter how little or how much your car is modded, you can benefit from the use of this remarkable tuning tool. Don't let a stock computer hold you back, tune your engine computer with a VCM Suite and discover real power.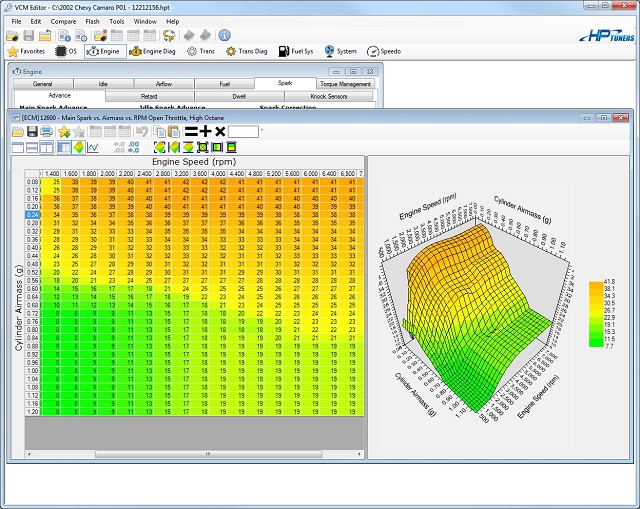 When you are dyno tuning your vehicle and pushing the limits, you need a software that's fast and responsive. VCM Tuning from HP Tuners gives you lightning fast response and solid state changes on the fly. As the best VCM, ECU or PCM programmer and parameter editing software, HP Tuners is the only choice for serious enthusiasts.
This is done through the VCM Flash, which allows you to change the EEPROM memory of your engine computer. These changes and calibrations will deliver superior performance and reliability. What's more the engine tuning computers from HP Tuners can help your stock vehicle as well.
What values can the HP Tuners VCM Editor change?
You can edit the binary image of your engine computer, or the EEPROM directly. You can adjust a variety of values, from Fuel curves, ignition spark advance, RPM Limits, FAN Temps, Transmission Shift points as well as Speedometer settings.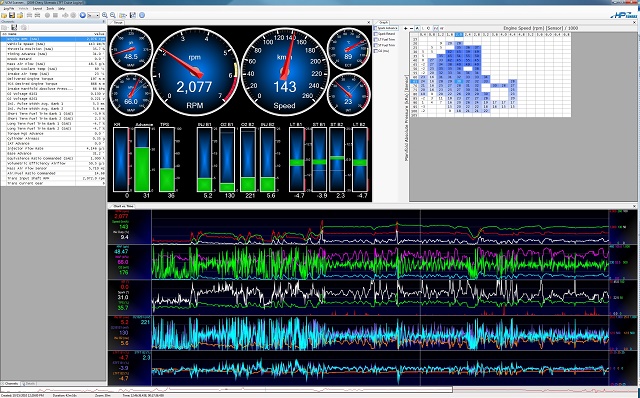 This range of adjustment and flexibility means that the HP Tuners suite is the best choice for aftermarket tuners. Whether you are a weekend warrior or own a performance shop, this software and technology can help you succeed.
Not only that but the VCM Editor gives you access to extended manufacturer values that other aftermarket tuners lack. This access is not easily found, and it allows you to adjust and modify VIN numbers as well which is an excellent option for mail order tunes.
To top it all off, the VCM editor from HP Tuners can also lock your tune in place. Protect your value and keep your engine safe by setting up Tunerlock. Prevent unwanted access to your tuner's work and keep your engine running optimally.
HP Tuners Scanner
When you need more than just the traditional plug and play OBDII scan tool, HP Tuners can help. More than just a way to read your OBDII trouble codes, the HP Tuners scanner can unlock datalogging and diagnostic tools that help you see what's going on in real time.

The VCM scanners are an excellent way to datalog your results and monitor air fuel ratios either on the dyno or the street. Built in VCM controls also supported. Change values like fan engagement, closed loop, gear select, timing, air fuel ratio and more real time! No editor package can be considered complete without comprehensive scan tool capabilities.
Which HP Tuners product do I need?
This is a common question asked by many people who are starting to tune or learning how to tune. Of course when you want the best options available, it's best to pick up the complete package. This is known as the VCM Suite which gives you the most comprehensive suite of programming packages and tools.
When you are tuning your vehicle or a new make and model, you can use the HP Tuners innovative token licensing to add more applications. There's no doubting that the HP Tuners VCM Suite is the complete tuning package and the best tuner that money can buy.