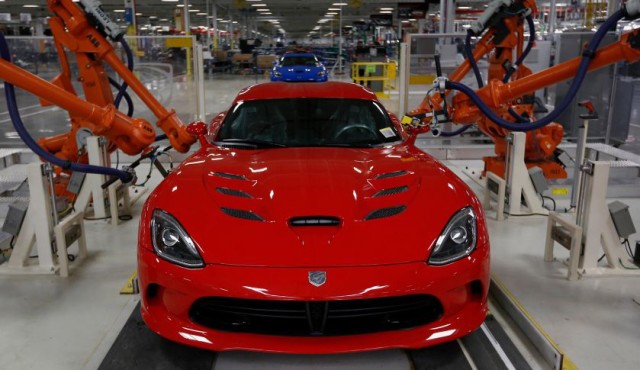 Closing out the book on one of the most iconic muscle cars in American history, the Dodge Viper will be discontinued in 2017. Production of the Dodge powerhouse could be closing with the changes to a proposed contract between Fiat Chrysler and United Auto Workers. The new agreement closes the Connor Assembly plant, which produces the Dodge Viper. We've been reading Dodge Viper discontinued rumors for quite some time, but it's still a sad day for muscle car fans and Viper owners.
The Connor assembly plant has built smaller scale production vehicles since 1995 for FCA. Some of the lesser known projects include the Prowler from 1997 to 2002. The main focus of the Detroit plant was the Viper however, and it's all coming to an end in 2017.
This new union contract will be closing the assembly plant, which will continue to produce the Viper in 2017, but according to the released statement from ACR "no future product has been identified beyond the product life cycle."
It marks a sad chapter in one of the most iconic American muscle cars of our generation. While it's still got quite a loyal following, sales of the Viper have been sluggish for years due to a lack of viable upgrades.
The lack of upgrades have allowed the competition to chip away at the Viper market share. Models like the new Chevy Corvette Z06 and the new Mustang Shelby have increased horsepower and continued to improve, making them more desirable choices for sports car shoppers.
The emergence of the new Dodge Challenger and Charger Hellcat isn't doing the Dodge Viper any favors. Many people believe that the Dodge Viper discontinued production solely on the fact that the 645 horsepower Viper just couldn't keep up with it's 707 horsepower brethren. In fact according to Edmunds, the FCA group just recently announced that they are going to double production of the Hellcats due to high demand.
There might not be a return of the Viper from this latest blow. Although the Viper went through a similar phase in 2010, and then relaunched in 2013 the closing of this plant could be the final swan song for the Viper.
What caused ACR to make the Dodge Viper discontinued the brand due to the evolution of American sports car buyers. Where the Viper represents a truly visceral blend of raw power and torque, some believe that people want less muscle and more refinement. In a world full of paddle shifters and CVT transmissions however, it's hard to see any sports car fan being happy about the Dodge Viper being discontinued.
What are your thoughts to why the Dodge Viper discontinued production? Have any theories of your own? Leave us a comment below and let us know!