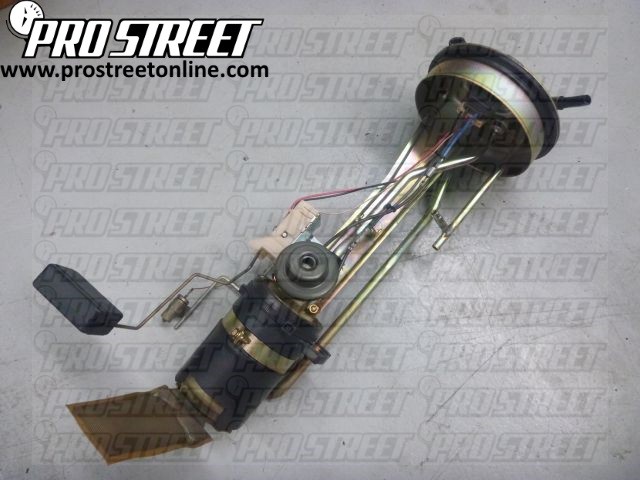 The Toyota Supra fuel pump is one of the leading single pump setups for any performance vehicle. Not just found in a MKIV Supra, the Supra fuel pump can often be found swapped into any number of turbocharged vehicles. Manufactured by Denso the Supra pump is also known as the 1020 Kyosan 300LPH high pressure fuel pump.
It's commonly found in the 1993-1997 Toyota Supra or MKIV, and today I'll be showing you how to test your Supra fuel pump. If you've got one in a Skyline, 240SX, Eclipse, 350Z or Honda this test applies to you as well. Although it's made for the Supra, the in-tank design and single pump setup makes it very popular for many upgraded vehicles.
In order to complete this How To guide, you'll need to use a ohmmeter or multimeter. Not sure what these words mean or what kind of tools they are? Check out our primer here to learn more.
What makes the Supra Fuel Pump so popular?
While many people choose the Walbro 255 high pressure fuel pump when they want more fuel, it's noisy and less reliable than the Supra unit. Where most people thought that the Walbro 255 was a comparable fuel pump, in reality it's not even close when it comes to flow rate.
Many tests have been published showing the Supra fuel pump flowing at nearly 290 liters per hour at 43psi and as much as 225 liters per hour at 58psi. This is in stark contrast to the Walbro, which flows 250 liters per hour at 43psi.
Here are some Supra fuel pump flow numbers in an easy to read chart.
430 LPH @ 30 PSI @ 14 Volts 8.9 Amps
390 LPH @ 40 PSI @ 14 Volts 9.5 Amps
350 LPH @ 50 PSI @ 14 Volts 10.5 Amps
305 LPH @ 60 PSI @ 14 Volts 11.5 Amps
320 LPH @ 30 PSI @ 12 Volts 7.3 Amps
273 LPH @ 40 PSI @ 12 Volts 8.3 Amps
225 LPH @ 50 PSI @ 12 Volts 9.3 Amps
180 LPH @ 60 PSI @ 12 Volts 10.4 Amps
These rates are shown to be a huge upgrade over the standard Walbro 255HP fuel pump. This difference works out to around 15% less flow and about 100% more noise. Because of this increase fuel flow and quiet operation, coupled with high quality components it's an easy choice for those who want the best fuel pump on the market.
The OEM Toyota part number for this unit is 23221-46110. We will begin this guide by testing the two bottom spades of your Toyota Supra fuel pump connector. If you have a Toyota Supra fuel pump in another vehicle, you can probe the two pins at the pump itself to check it.
Testing the Supra fuel pump internal resistance
Once you have access to your fuel pump assembly, you'll be using your multimeter to check the function or the internal resistance of the pump. Put your digital multimeter dial to read resistance or OHMS mode, and you'll be gently probing PIN 4 and PIN 5.
These are the bottom pins, and don't forget if you have this Supra pump swapped into another vehicle simply probe the two pins at the pump itself. The resistance you are looking for here is between 0.1-3.0 Ω of resistance.
If your Supra fuel pump does not return an internal resistance within this range, it's gone bad. Pick up a replacement to restore your fuel pressure and get back on the road. Have any questions about this How To Test a Supra Fuel Pump DIY Guide? Leave them for us below and let us know.