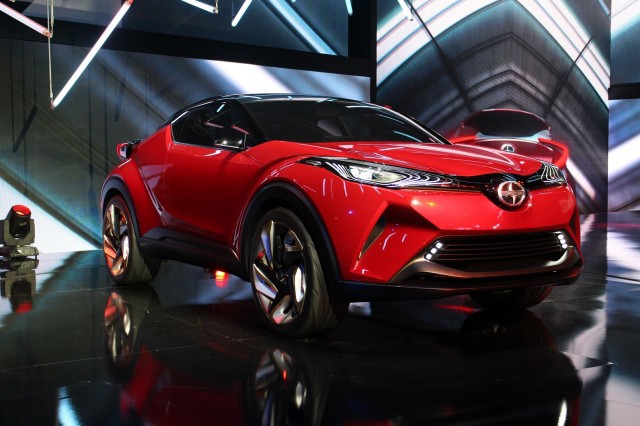 Toyota's all new crossover made it's debut as the Scion C-HR Concept at the LA Auto Show, and it received mixed reviews to say the least. Love it or hate it, it's a bold and striking move forward for Toyota and Scion. The futuristic crossover looks incredibly wind swept and is incredibly curved, featuring over-sized C pillars and tail lamps.
Sporty body lines and a slightly higher ride height suggest that the Scion is capable of off-road performance, but there's no technical specifications released quite yet. Of course this is really just the Toyota C-HR concept that originally debuted in Paris last year. If this new Scion shares anything with the original Toyota, there might be more than just a traditional engine under the hood.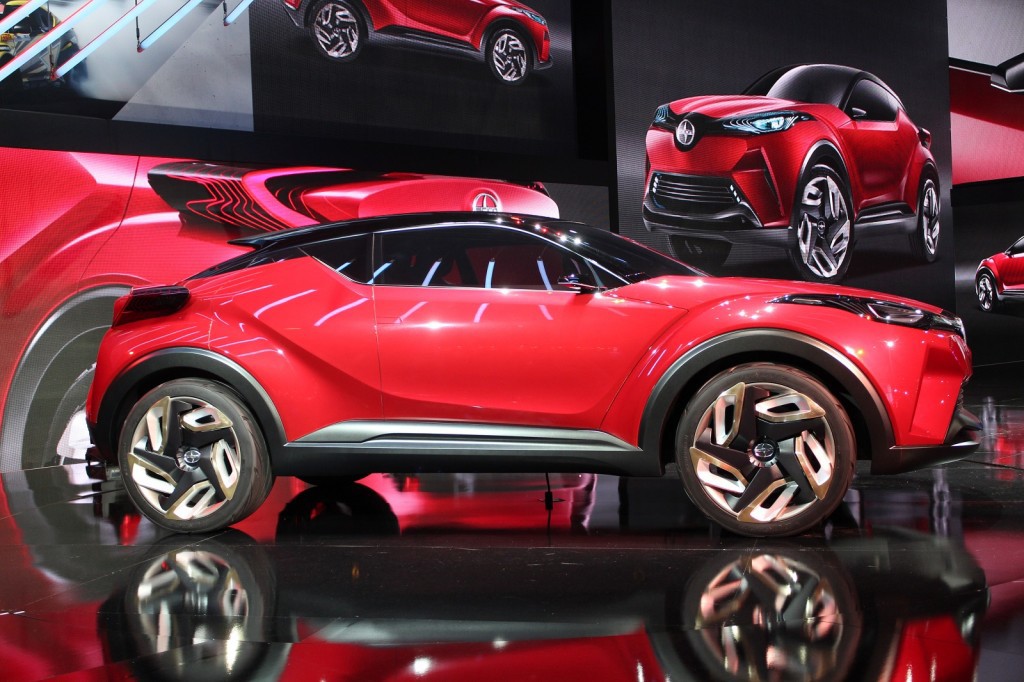 The Scion C-HR concept may be taking the growing trend of hybrid electric motors powering a smaller displacement gasoline engine, as the Toyota did last year. Although there's no real news on what the Scion has packing under the hood yet, early rumors seems to put the overall power output around 230 horsepower.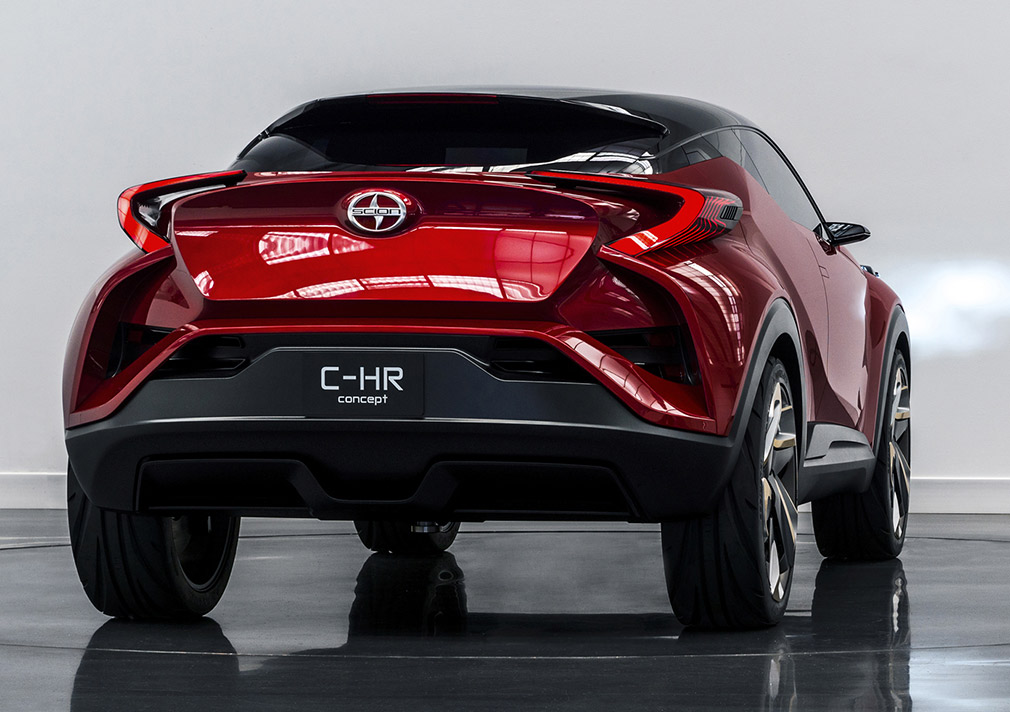 The name C-HR comes from the concepts of Compact size as well as High Ride height. Toyota says that the theme behind the platform is based on a "urban lifestyle" vehicle. Design is said to be inspired by the shape and symmetry of a diamond. The Scion C-HR concept has yet to release any images of the interior but the diamond supposedly plays a huge factor in the design.
Scion C-HR Concept Design and Styling
As far as looks go Toyota certainly didn't pull any punches, and the bold futuristic design looks incredible. Bold red paint is offset with the large 21 inch oversized black rims poking out at each corner. The new alloys look almost garish, which is exactly the point in the concept platform. Scion has announced that a production model is coming soon, albeit slightly toned down.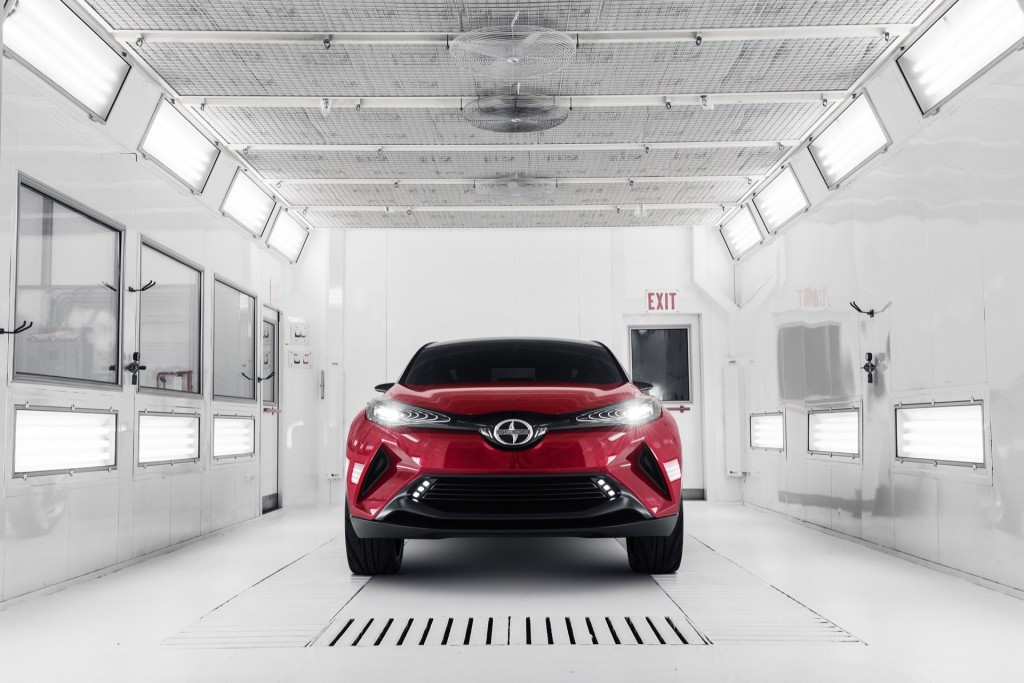 While it will be a while before we see the production Scion crossover, we hope it retains the bold and striking lines. The new Scion C-HR Concept should spawn a production model by next March according to Toyota, just in time for the Geneva Motor Show.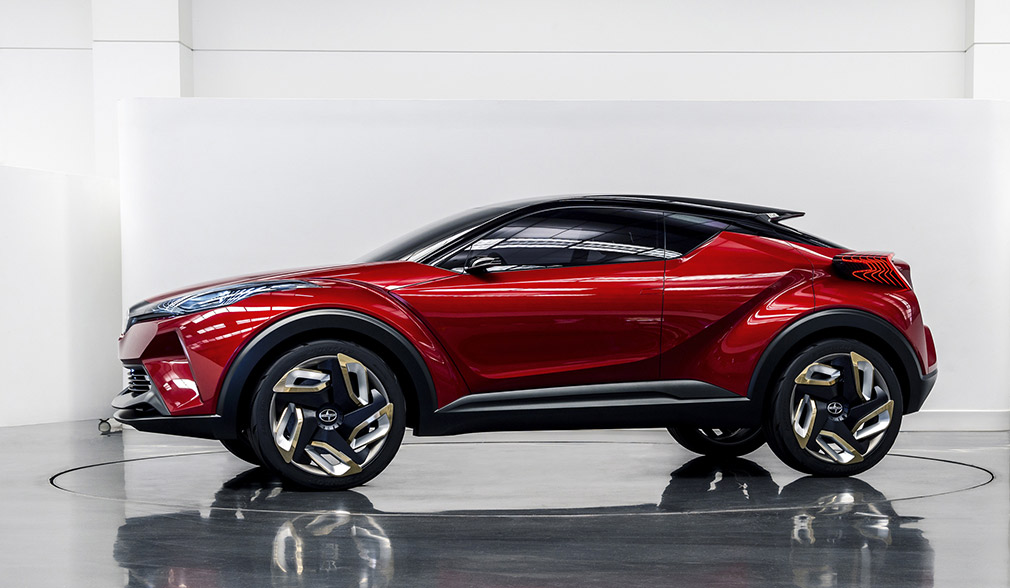 Most automotive experts see the new C-HR taking aim at the Nissan Juke and crossover segment that seems to be growing so rapidly. Beneath the wild exterior is the all-new Toyota Global Architecture known as TNGA. This new method of platform development will increase efficiency and spawn a new lineup of vehicles for the Japanese automaker.
What do you think of the Scion C-HR Concept? Too much or too little? Leave us a comment below and let us know!