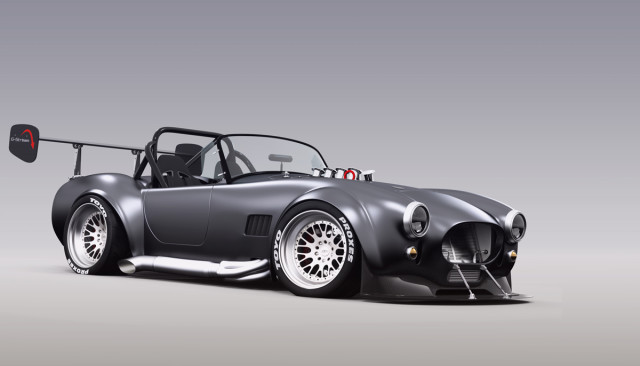 The Factory Five Cobra Jet was one of the more remarkable project builds we encountered at the 2015 SEMA Show. Built by Power Automedia this roadster blends properties of the old and the new, by taking the classic Cobra Jet and combining lots of modern concepts and styling cues. The result is an awe inspiring culmination of performance and style that tips the scales at just under 600 wheel horsepower.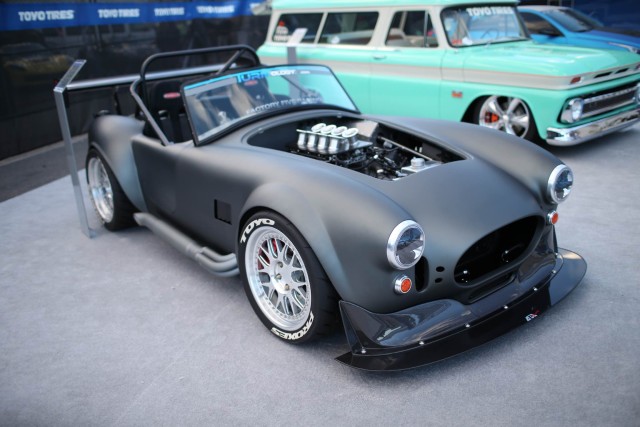 This isn't your grandfather's Cobra Jet, with the matte black finish and carbon fiber accents. Starting off with the Factory Five chassis as the foundation, the heart of the Factory Five Cobra Jet is a Coyote engine that generates nearly 600 wheel horsepower. The Coyote engine is quickly becoming a fan favorite, and for good reason. With it's sky high 8,000 RPM redline and robust power delivery, there's a reason why the Coyote could become the next generation engine swap candidate that may rival the LS1.
The Factory Five kit car is using the same 312ci foundation, and a slightly lowered compression ratio that was based on Ford Racing's Coyote engnein program. With this combination, the kit car put down 534 horsepower @ 8,000 rpm at a very conservative tune. According to the builders they wanted reliability and functionality over horsepower numbers, but really who is counting when you are driving this incredible machine.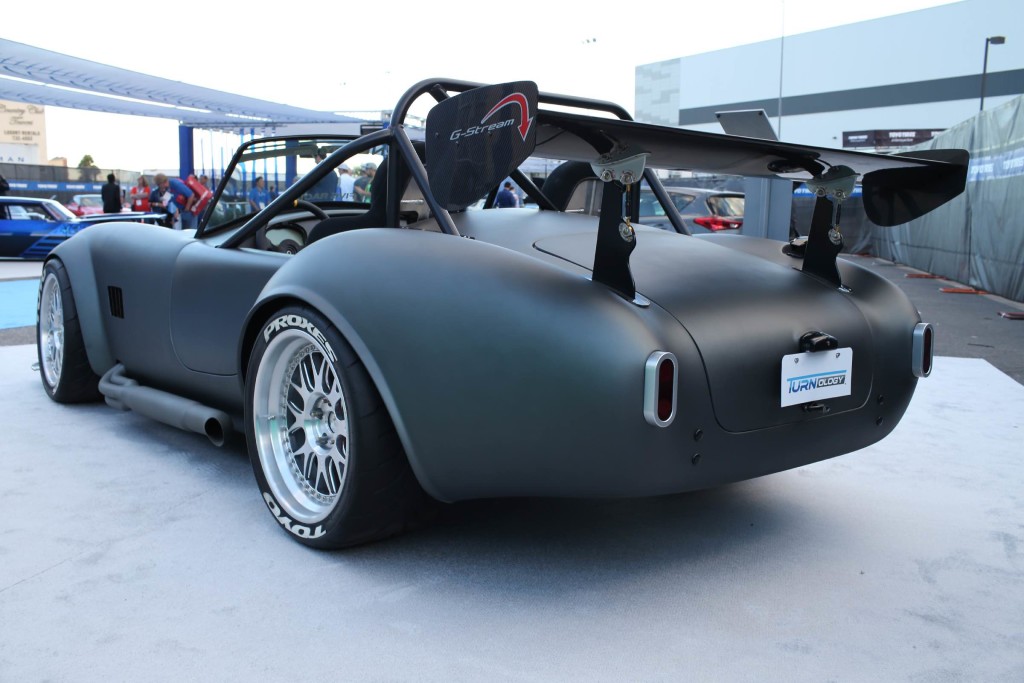 Making it's debut at the Toyo Treadpass booth outside of the main SEMA show, this Cobra kit car looked stunning even with it's understated matte black finish. More than just an engine and big rims, the Factory Five Cobra Jet features a fully integrated NASA legal cage worked into the chassis. Along with a 3 link rear suspension and tube frame front suspension, it's a functional roadster in every sense.
It's using the Factory Five Street Completion package, which includes just a second seat, carpet, and a windshield. With almost 600 wheel horsepower the power to weight ratio is definitely one that rivals many of the supercars you might find on the road.
The rest of this incredible build is based around several high quality Tilton components, from their 600-series pedal assemblies and pedals. Using several of their high level master cylinders and bias adjusters, these Tilton pedals actuate and drive the Tilton clutch and flywheel combination.
Want to check out more of the badass Factory Five Cobra Jet? Head over to Turnology to see more of this incredible build.