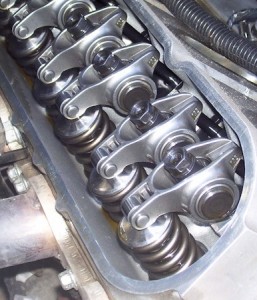 LS1 rocker arm ratios are fairly standard across the board, with a 1.7:1 ratio for all the GM GEN III cylinder heads with the solo exception of the LS7. The LS7 gets a 1.8:1 rocker arm ratio which is a slight departure from the norm, but if you are putting together a budget LS1 swap or building a custom LS1 cylinder head, it's a good idea to know where the weaknesses of the LS1 cylinder head are.
Whether you are building a budget LS1 swap or a full race engine, when buying aftermarket performance parts make sure to steer clear of trunion bearing units. Because the stock Chevy LS1 engine featured rocker arms that could fail at high engine speed, or a combination of higher RPM and engine load, rocker arms with a trunion bearing at the pivot should be avoided.
Instead opt for a forged set of billet high-density alloy arms and well-oiled pivot bearings or even needle type bearings for your LS1. and/or sustained engine speeds. There are several aftermarket companies that offer a full set of upgraded trunion bearings, but if you are going to be upgrading your LS1 valvetrain, avoid them like the plague.
What is my LS1 rocker arm ratio?
---
LS1: 1.7:1 (intake and exhaust rockers identical)
LS6: 1.7:1 (intake and exhaust rockers identical)
LS2: 1.7:1 (intake and exhaust rockers identical)
L92: 1.7:1 (intake rocker offset)
LS3: 1.7:1 (intake rocker offset)
L99: 1.7:1 (intake rocker offset)
LS9: 1.7:1 (intake rocker offset)
LS7: 1.8:1 (intake rocker offset)
Even though most of the LS1 or GEN III rocker arm ratios are the same, not all cylinder heads are the same. Because of the varying valve angles, there's going to be differences between cylinder heads depending on what you have.
The earlier LS1, LS6 as well as the LS2 engine use a straight designed rocker, and both the intake and exhaust arms are identical. This is vastly different to the LS3, LS9 and L92 cylinder heads because there's an offset intake arm that changes quite a bit of the geometry. The LS7 also has the same designed intake arm, although the ratio for the rocker is different.
The rocker arm rail and edge for the L92, LS3, L99 and LS9 cylinder heads pushes off-center to provide a stable offset, with just one side of the pedestal protruding into the head. These heads have a 2.227″ measurement from the centers outward, and if you are building an earlier LS1, LS6 or LS2 the cylinder head's pedestals are located 1.901″ centered from one another.
Because your aftermarket kit will more than likely integrate cast-in machined pedestals to eliminate waste and reduce the number of moving parts in your GM cylinder head.
If you are looking for the GM LS1 cylinder head interchangeability chart, check our guide here. Don't forget that LS1/LS6 and LS2 intake and exhaust rockers are interchangeable, but the LS3, LS9 and L92 intake rockers are offset.
Have a question about our LS1 Rocker Arm Ratio guide or FAQ? Leave us a message below and let us know!
Good luck building your LS1 swap and happy drifting!