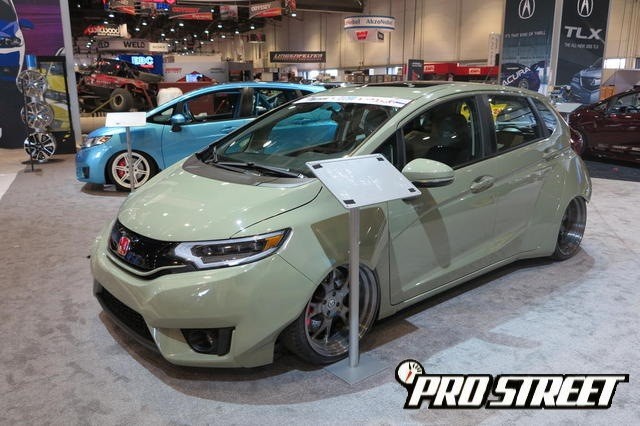 The SEMA show is fast approaching, as registration opened for the largest automotive show in the world. Held annually at the Las Vegas Convention Center, it's the epicenter of the aftermarket industry for a single week. Hundreds of automotive aftermarket manufacturers will converge making the SEMA Show a must attend for any true gearhead.
If you are a first time visitor to the show, it can be a challenge to plan your trip. If you haven't already check our Ten Best tips to enjoying your SEMA Show experience. With just a bit of proper planning you can avoid the common mistakes that most visitors that can rain on your parade.
Scion fans are looking forward to the 2015 SEMA Show, and this year promises some of the most epic builds we've seen yet. Whether you want to see the trio of Formula Drift GT86's or the Scion tC and xB, Scion could take home honors as they did in 2013.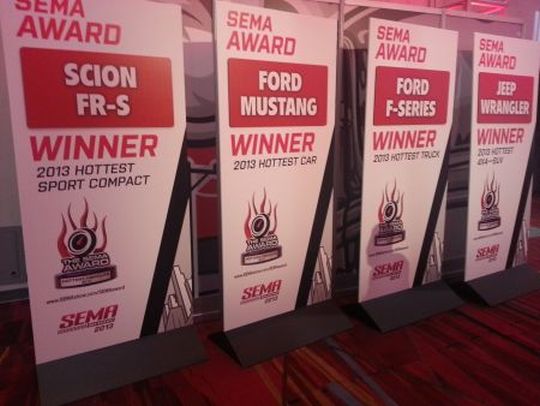 Don't get us wrong, last year's SEMA Show had some pretty epic builds as well. Two of the Ten Best Scions of 2014 SEMA Show featured builds from Scion themselves. Even if they aren't of the typical import tuner trend, the level of dedication and quality was apparent and easy to appreciate.
One of the more interesting ones was the Slayer themed tC named the Scion x Slayer Mobile Amp tC. Built for pro skateboarder Riley Hawk, the car had quite a few custom upgrades, including suicide doors that defied logic.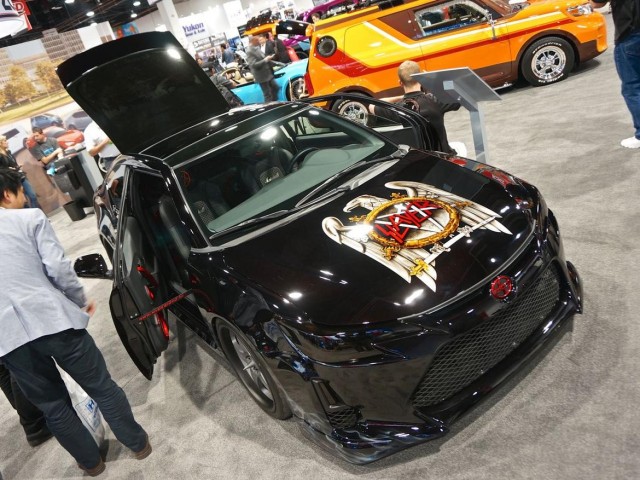 Scion also built a orange Scion xB with wood-grain paneling and an 8-track player and shag roof interior. Built by Scott Kanemura of KMA Productions, the bubble windowed box was different to say the least.
If you are attending this year's 2015 SEMA Show, make sure to use your planner and find the Scions that move you. If you don't work in the industry unfortunately you cannot attend the SEMA Show, however there's plenty to enjoy outside as credentials are not required for those events.
It wasn't difficult looking back at the 2014 SEMA Show Scions, and let us know if we've missed anything or you think there's a car we overlooked.
Ten Best Scions of 2014 SEMA Show
In anticipation for the upcoming 2015 SEMA show, and the many new Scion builds, here is the ten best Scions of 2014 SEMA Show in retrospect. As the ultimate lens through which you can see your favorite Scion, the 2015 SEMA Show promises to be the best so far.
The 2014 show brought more than 60,000 domestic and international buyers to the Las Vegas Convention Center, so if you don't know how to maximize your SEMA show experience, try our guide.
What car are you looking forward to at the 2015 SEMA Show? Do you think one of these Scions is too low or ranked too high?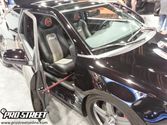 I couldn't take my eyes off the suicide doors built into this Scion tC coupe. Not sure how they exactly made this work but it definitely gave this Scion an edge in the unique factor.
The rear is a cavern of towering amps that a custom mixer and a 32 inch infotainment center that drives it all home.