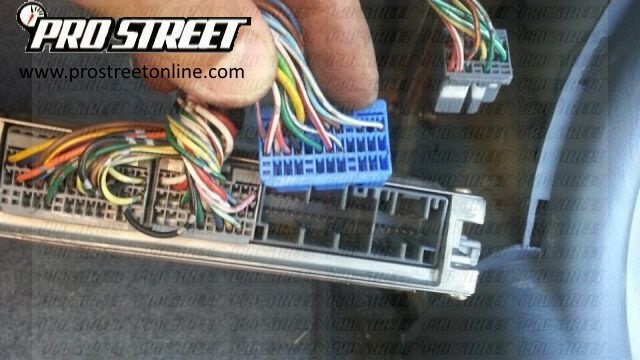 If you need to modify your Honda Civic by installing a power adder like a turbocharger, knowing how to install a Honda Civic air fuel gauge is vital. Because you want to know how lean or rich your Honda Civic is running, installing a air fuel gauge on your Honda can help you keep the motor healthy.
For the purpose of this article, we'll be installing a narrowband air fuel ratio gauge from Autometer otherwise known as the blinky light gauge by many tuners.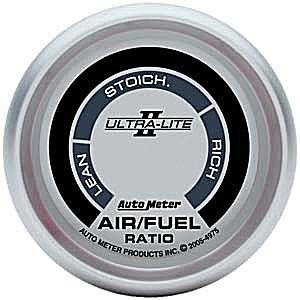 This unit part number is AUM-4975 and it's a Ultra-Lite II which we'll be mounting in a single gauge pod on the a pillar of the Civic. Our test vehicle is a 1998 Honda Civic with a D16y8 engine in it.
While this is a nice enough air fuel gauge, it's only as accurate as your factory oxygen sensor is, which is to say not at all. If you are looking for the ultimate in air fuel monitoring technology, check out the AEM Failsafe UEGO for more details. We are also Glow Shift dealers and their high quality wideband oxygen sensor can be found here.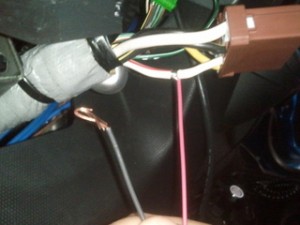 If you were maybe looking for instructions on how to install a Honda Civic wideband air fuel ratio gauge, check our Guide on the Honda Fit, which is very similar. Because you'll be welding a oxygen sensor bung inline of your exhaust, the wiring portion will not differ much.
To begin our how to install a Honda Civic air fuel gauge DIY Guide, disconnect the negative terminal on your battery. You'll be removing your factory ECU from it's location and wiring in the air fuel gauge harness for power, ground and the oxygen sensor signal.
Open your passenger side door and slide the passenger seat all the way back to gain as much room as possible. Look near your passenger side kick panel to see a black plastic retaining pin.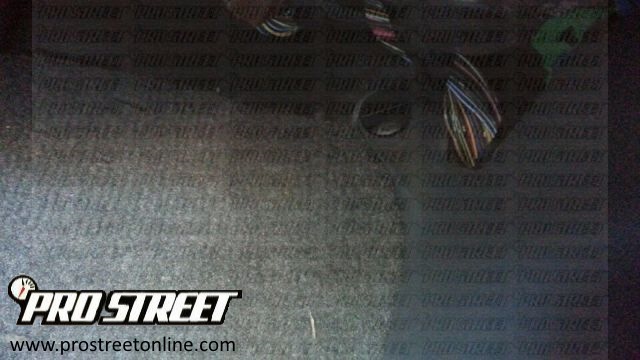 Unscrew this black plastic retainer and the plastic kick panel that protects your Honda Civic ECU can be pulled off.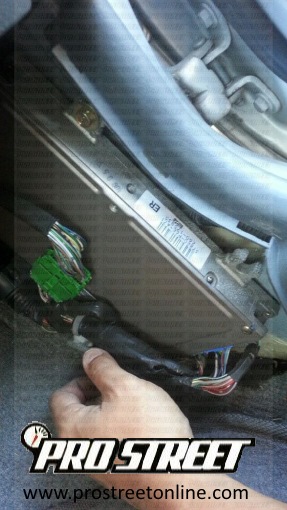 Now that this kickpanel has been removed, you must undo the 10mm bolts that hold your Honda Civic ECU in place. Remove these bolts and swing the entire ECU towards you, starting from the harness side. Make sure you are rotating the Honda ECU towards the center of the vehicle to swing down and out properly.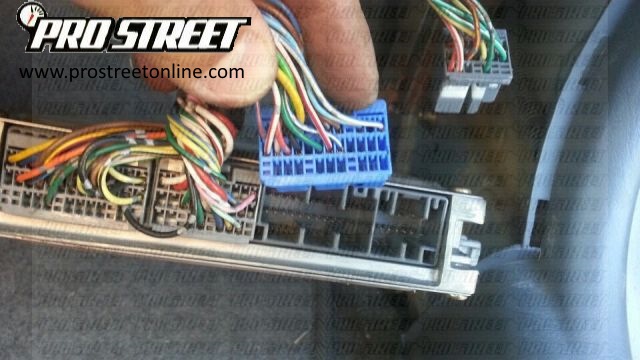 Unplug the Honda Civic ECU harness one by one, and refer to the chart below for the proper wiring you'll need for your air fuel gauge. The Autometer air fuel gauge has three wires you'll be teeing into your Honda Civic ECU harness, let's take a look at them below.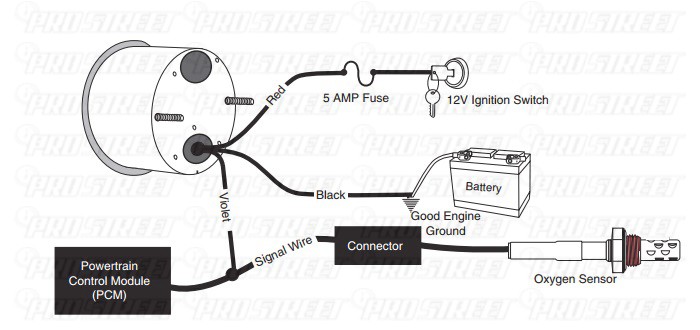 Begin with the purple wire on the Autometer air fuel gauge, this is the signal wire. This wire is teed into your existing Honda Civic ECU wiring, more specifically PIN 7 on your D plug of your D16y8 Honda Civic ECU. This is the H02S wire, which represents the signal wire for your primary or upstream 02 sensor.
For a complete guide on Honda Civic ECU pinouts, check our guide here. Once you've teed the signal wire in, all you have left is the power and ground wires on your air fuel gauge to complete our how to install a Honda Civic air fuel gauge guide.
Open your steering column and you'll be teeing into the switched power wire black wire with yellow stripe, from your ignition column. Ground the black wire of the Autometer air fuel gauge to properly provide the low signal reference for your air fuel gauge.
You now know how to install a Honda Civic air fuel gauge, please leave us any questions or comments below!