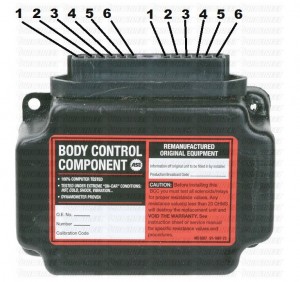 Electrical problems with your Ford Mustang are never a fun time, but they don't have to be overly difficult either. Issues with your Ford Mustang Constant Control Relay Module (CCRM) can lead to problems with your cooling fans, and can even cause your Mustang to not start. Today we'll be showing you How To Check Your Ford Mustang CCRM, part number F6SZ-12B577-AA.
This module consists of four separate relays which control several components, the Ford Mustang PCM, as well as the fuel pump and cooling fans. When issues arise from this pack of relays your Ford Mustang may buzz or emit a strange noise. Although we'll be showing you how to check your Ford Mustang CCRM with a 1996 Ford Mustang Cobra, this guide applies to all 1994-1998 Ford Mustangs.
Before you start our DIT CCRM guide, it's a good idea to understand what the CCRM does and how it controls your fans. Fan speed and operation is controlled by your CCRM which uses a two speed relay in conjunction with the air conditioning relay.
When your Ford Mustang Engine Coolant Temperature (ECT) sensor reaches 210º F, this will activate the low speed setting of your cooling fans. If the temperature rises above 220º F or your air conditioning is switched on the fans run on high speed.
Turn your Mustang on and let it idle until it reaches operating temperature. Your low speed cooling fan should turn on at this point. If your fan does not turn on, make sure to check the fuses in your fuse junction panel to make sure that this isn't your problem.
If your fuses check out okay, make sure to check your cooling fan connector. Depending on your model of Ford Mustang, your cooling fan connector is either a two pin connector, or if you own a 4.6 L like our Cobra it will be a three wire connector.
Have a friend sit in your Mustang and turn the vehicle to the "ON" position but do not start the engine. Your three pin Mustang connector should be a red wire with orange stripe for the low speed fan signal. The orange wire with blue stripe is the high speed fan signal, and you'll be testing that last.

Take your multimeter and we'll be testing for fan voltage with your engine hopefully still at operating temperature. If you are not sure how to use a multimeter or voltmeter, check our guide here. Take the black ground lead of your multimeter and set it against the negative battery terminal.
Although the black wire on the three pin cooling fan connector is a sensor ground, never use engine harness grounds as primary leads when testing. With the vehicle warmed up and ECT triggering the PCM, there should be voltage at this red / orange wire. Now have your friend depress the air conditioning button, and check the orange / blue wire for voltage.
Make sure your three pin connector is properly grounding your Ford Mustang cooling fans by switching your multimeter to the ohms scale and grounding the lead while touching the black wire. If you are trying to learn how to check your Ford Mustang CCRM because your 3.8 liter cooling fans will not turn on, you will have a two wire connector.
Black is ground and the red wire will be the power wire. You can have your friend simply turn on the air conditioning to check the voltage wire in question.
If you do not have voltage at these wires, you will have to track back to your Ford Mustang CCRM, which is located in your right fenderwell. If you are trying to learn how to check your Ford Mustang CCRM because of other issues, such as your fuel pump, use the diagram below to measure and test each wire in question.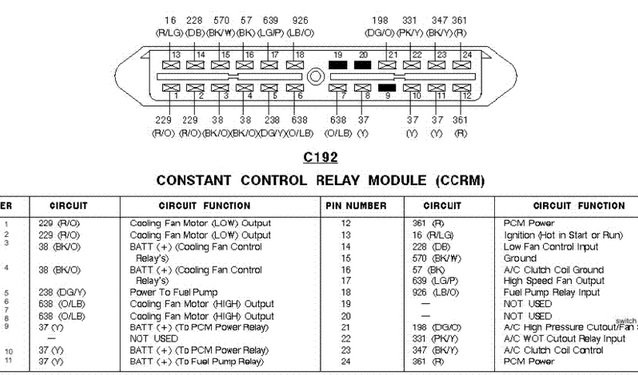 If your engine sensors are not receiving power, you will definitely want to check your CCRM. Before opening your fenderwell however, always check your fuse panel, as well as your ignition switch. With the key turned to the "ON" position, you will now be testing for power at your CCRM by checknig PIN 12 and 24 for switched power.
The next pin you will be checking is pin 8 and 10 for constant power from the battery. If you do not have grounds at your sensors, check pin 15 for low reference ground signal.
If your Ford Mustang fuel pump is not priming or supplying the engine with fuel, check pin 5 for switched voltage. If there's no voltage at pin 5, check pin 11 and pin 13 for constant voltage from the battery. If your fuel pump is still not working, don't forget the inertia switch located in the trunk area.
Other known part numbers for the Ford Mustang Constant Control Relay Module are ;
F4ZZ12B577A
F6SZ12B577AA
F8ZF12B581AB
F4ZZ12B577A
F6SZ12B577AA
F8ZF12B581AB
F4ZZ12B577A
F6SZ12B577AA
F8ZF12B581AB
If these pins are showing power and ground and your vehicle continues to have issues, you will need to replace your CCRM. Make sure to consult your sales rep with your VIN number for the proper matching replacement part. This does it for our How To Check Your Ford Mustang CCRM guide, if you have any questions or comments please leave them for us below!