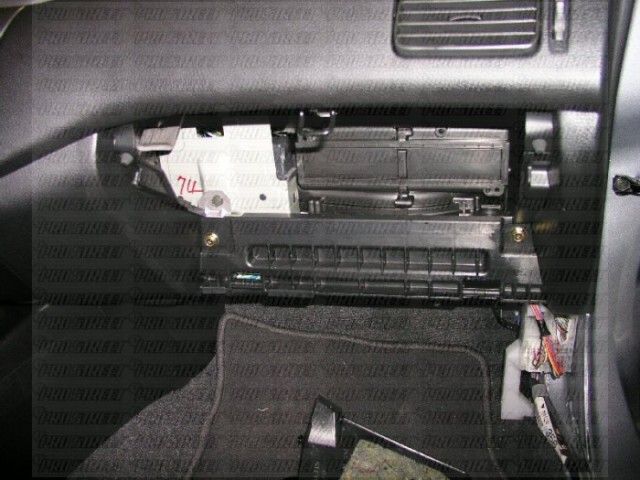 The Apexi Rev Speed Meter is a useful tool that monitors your vehicle and engine speed and displays it in real time. While not as popular as the Apexi Super AFC or AFC NEO, the Rev Speed Meter (RSM) is a useful tool, especially if your vehicle comes with a factory speed limiter. While eliminating the speed limiter is it's main purpose and function, the RSM can also act as a timer and quarter mile timer as well.
Housed in the Apexi AFC form factor, the RSM is a nice tool that goes along nicely with your AFC in any vehicle. Today we'll be installing it in a 2005 Mitsubishi Evolution and showing you how to install a RSM in a Evolution wire by wire.
These instructions are designed for use with the RSM with the part numbers of 405-A912 and 405-A916. If you are not comfortable wiring in electronic piggyback devices to your vehicle, stop now and take your car to an experienced mechanic.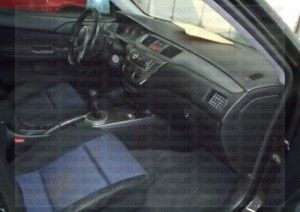 To begin our how to install a RSM in a Evolution DIY article, you must first locate your Mitsubishi Evolution ECU. This ECU is located under your dash and can be accessed after you remove the negative terminal on your battery. If you have the stock radio in your car still, now's the time to find that radio code.
Where is my Evo ECU?
---
The ECU in your Mitsubishi Evolution is located behind your dashboard and can be accessed using just a few hand tools. To find your ECU, open your passenger door and open the glove compartment. There are two plastic tabs that are located on either side of the compartment.
Push back on these tabs to release them and pull out the tabs from the grooves to swing down on your entire glovebox. The ECU case is located behind the back wall of your glove compartment.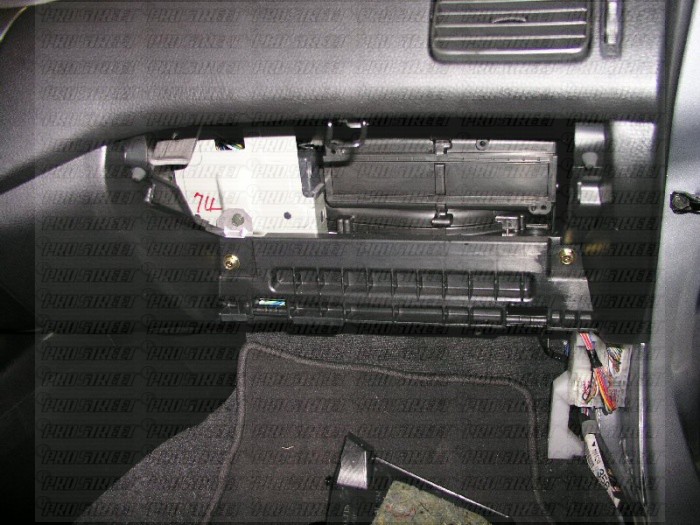 You can use a swivel 10mm socket to remove the bolts that hold this bracket in place. Or you can simply open the casing and access the ECU wiring directly, whichever you prefer. If you are wanting to remove the ECU to access the entire unit, remove the 3 10mm bolts that hold the ECU case in.

With the Mitsubishi Evolution ECU facing you, here's the pinout that we'll be teeing into. Here's a look at the Apexi RSM wiring diagram without the use of a speed limiter. If you are installing this unit into a car and want to use the RSM to eliminate your speed defenser, this wiring diagram will not work.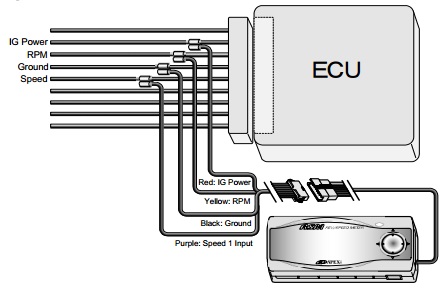 As you can see there's not much to wire up to complete this how to install a RSM in a Evolution article, so let's get started. You'll be wiring in the RED power wire to PIN 25 of your Evolution ECU for switched power.
Next you will take the black ground wire and tee this into PIN 26, which is the ECU ground low reference wire. Never tap your ECU ground or power when testing or soldering electrical equipment.
Now with the RSM powered, you have just two wires left the yellow tach output and the purple VSS wire. Take the yellow wire from your Apexi RSM and wire this into PIN 58, this is the output wire from your 4G63 igniter. The Apexi RSM needs this to know what engine speed and RPM you are at presently.
The final wire is the purple speed wire, which should be connected to the 4G63 VSS output on your ECU. This is wire 86 and you will be teeing this in so that your RSM knows what speed your Evolution is traveling at. After this you will need to complete the setup of your RSM, but check your wiring and make sure nothing is loose before you begin setup.
Setting up your RSM
---
The Apexi RSM can display a variety of real time values from Engine RPM, Speed, Travel Distance, and Battery Voltage. It can also switch display types to give you the most pleasing readout of engine vitals you could hope for.
Enter Tire Size – For use when you upgrade rims and have larger rims, enter the correct values for measurement so that the Apexi RSM can correct the vehicle speed accordingly. For example – 275/35-18 would be the upgraded value from your 235/30-17. For more information on reading tire measurements and reading tires, check here.
Enter Vehicle Weight – There's already a built in modifer for this value, so the weight modifier takes into account your weight as well as the possible weight of your passengers. Have a big sound system? Factor that in as well when you are doing the math to add your gross vehicle weight to your Apexi RSM. If the manufacturer claims a curb weight of 2600 lbs, you will need to do the math and add the claimed weight with your weight and the weight of any accessories to determine the real curb weight.
G Shock Sensor calibration – Meant for those who have the optional G force sensor installed, part number 430-A013. This sensor provides the RSM with real world G force readouts, allowing for 0-400m measurements as well as the quarter mile.
The G sensor can also detect wheelspin and provide real world readouts for acceleration times. You can also use the G sensor to give you a semi-accurate butt dyno reading to see how much horsepower the RSM thinks your vehicle has.
Advanced uses for the Apexi RSM
---
RPM output and VSS Output – You can use these optional outputs to trigger relays or trigger another component of your vehicle. Shift lights, boost switches and gear selectable boost settings are just a handful of reasons to use these outputs and wire them into relays. Wondering how to wire in automotive relays? Check our how to here.
That does it for our how to install a RSM in a Evolution DIY How To, for any questions or comments please feel free to leave them below!