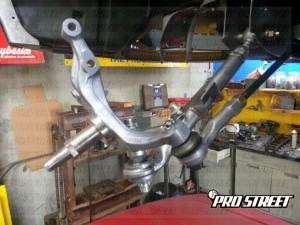 The tie rod ends are a vital part of your steering system, and directly responsible for turning your front wheels. Today we'll be showing you how to replace and upgrade your Nissan 240SX tie rod ends and do it without the use of an alignment machine or a shop.
When you are turning your steering wheel, the steering assembly and linkage move direct your front wheels. The reasons for learning how to install 240sx tie rod ends can be varied, from replacing blown out ball joints or upgrading to maximum or modified angle purposes.
Your ball joint is a ball socket assembly called a tie rod end, if you are are looking for that guide check here. If your factory tie rod ends are still in place, they are the rubber boot kind with grease that helps them do their job for the long haul. If these boots are broken or leaking, this can also lead to a messy and potentially dangerous driving condition.
The test vehicle is our 1993 Nissan 240SX or the Project RB25DET, and we'll be installing aftermarket tie rod ends part number MRS-NS-1761. If you are careful and follow our How To Install 240SX Tie Rod Ends Guide, you will also not require an alignment to adjust your steering wheel.
Improper installation can lead to a dangerous driving condition if you are improperly setting your front wheel alignment. If in doubt stop and take your vehicle to an experienced mechanic.
Raise your Nissan 240SX via jackstands or a two post automotive lift and secure it properly. Remove your wheel and locate the mounting point where your tie rod end connects to your spindle. The OE part number for this tie rod end is 48521-35F00 and it also fits many other Nissan models, from the Sentra and Pulsar between 1986-1998 as well as the Altima in 1996-2001 and the 1986-1988 Stanza.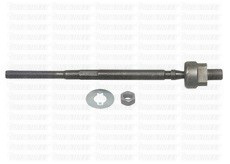 Remove the cotter pin that secures the lower castle nut on the spindle and then undo the castle nut. You may require a tool to separate the boot without tearing or damaging it. Never drive with ripped open or damaged boots.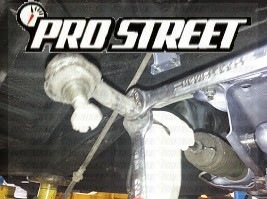 Loosen the backing nut to the outer tie rod but do not spin the tie rod itself. When you have sufficiently released your tie rod end, gently score the backside of your tie rod end with the threads or use chalk to mark your location. Now use the center adjustment to back out and remove the tie rod end and use the score mark to start the rotation outward.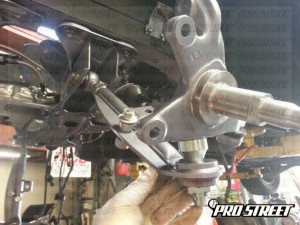 Count the revolutions from where you are backing the tie rod and then inspect the threads on your outer tie rod. Clean the threads if necessary but make sure to check your mark and reference it as you install the new unit. When you near the end, go slowly and note where the outer tie rod end comes off the vehicle.
If you need to service your outer tie rod boot, now is the time to do that.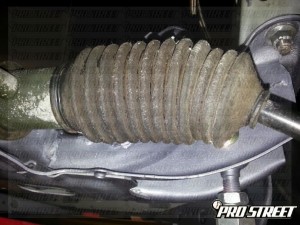 Replacing your old worn and possibly leaky boot will go a long way in preserving your Nissan 240SX's handling and steering components. Knowing how to install 240SX tie rod ends can save you a lot of money in the long run.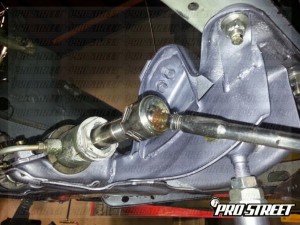 Always clean and re-lubricate your outer tie rod end when replacing or servicing the tie rod end boot.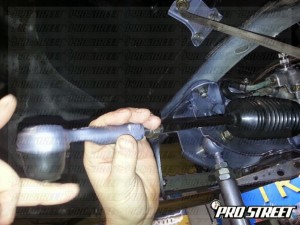 Now reinstall your new outer tie rod ends and count the number of rotations from the point you saw your original unit removed.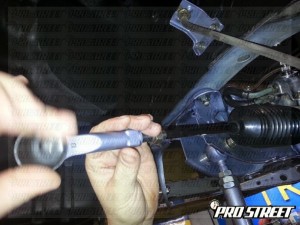 When you have completed one side, tighten the jamnuts to the proper torque sequence and you now know how to install 240SX tie rod ends. If you are on a lift you can complete both sides with ease.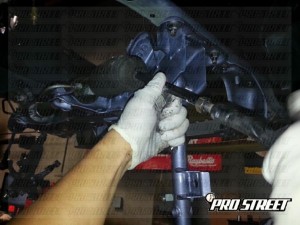 Install the tie rod back onto your spindle torque the castle nut and always install a NEW cotter pin to secure this nut.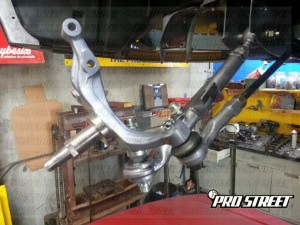 After this you can now remount and reinstall your wheel. If you have any questions or comments about our how to install 240SX tie rod ends guide please leave them below!