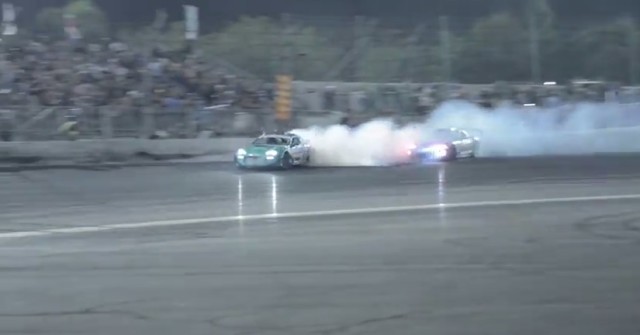 Irwindale has been kind to Formula Drift and just this past weekend hosted the 2014 Pro Championship season finale. As they did a year ago, fans packed the Formula Drift Irwindale stands to witness the live tire slaying event, in addition to the Offset Kings car show and other festivities. To add to the viewing table, Formula DRIFT's LiveStream registered over 200,000 unique visitors to watch the action over the Internet.
The event was won by Daigo Saito in the Achilles Radial Lexus SC430, while Michael Essa was felled as Formula Drift champion. Chris Forsberg in the Hankook Tire Nissan 370Z wins his second career championship. All in all the Formula Drift Irwindale event in 2014 was one of the most successful ones in Formula Drift history.
All in all, another successful year and season for the growing once-niche motorsport, a fact not lost on Formula DRIFT officials.
"What a way to end the 2014 Pro Championship season," says Jim Liaw, President of Formula DRIFT. "We could not have asked for a more successful finale. The sold out crowd kept their high energy levels throughout the event and a majority stayed until the final run was complete and a new championship was named. We are thankful for our fans that are extremely engaged with this sport and our Series."
Despite being behind by 26 points entering the Final Fight, Forsberg pulled out the win while fending off Frederic Aasbo during the Top 4 round. Aasbo put up quite the fight, but he required an event win to take home the championship, something that Chris Forsberg knows a thing or two about.
"A wild season for us. We wanted the championship so bad after last year," said Chris Forsberg, 2014 Formula DRIFT champion. "Taking the win in Long Beach and holding the lead throughout the season to the Finals only to basically lose to Aasbo every time we went up against him. He was our kryptonite all season long. We were able to hold him off just enough to take the championship home and we are super pumped and very proud of our team for giving us the best car we ever had."

The results of Round 7 Irwindale Final Fight are as follows :
Formula Drift Irwindale 2014 Final Standings
---
1. Forsberg, Chris Hankook Tire Nissan 370Z 561.50 Points
2. Aasbo, Fredric Hankook Tire Scion Racing tC 550.00 Points
3. Gittin Jr., Vaughn Monster Energy / Nitto Tire Ford Mustang RTR 393.00 Points
4. Bakchis, Aurimas "Odi" Feal Suspension / Nitto Tire Nissan 240SX 364.50 Points
5. Wang, Forrest Get Nuts Lab / Hankook Tire / STR Racing Nissan S14 331.50 Points
6. Moen, Kenneth Bridges Racing Nissan 240SX 310.50 Points
7. McNamara, Darren Falken Tire Nissan S14 298.00 Points
8. Kearney, Dean Oracle Lighting Dodge Viper SRT 287.00 Points
9. Pawlak, Justin Falken Tire Ford Mustang 277.00 Points
10. Grunewald, Conrad Megan Racing / Top 1 Oil / BRE Chevrolet Camaro 262.50 Points
11. Nishida, Robbie Achilles Radial / Bridges Racing Lexus SC300 261.00 Points
12. Tuerck, Ryan Retaks Maxxis Tires Air Force PSI Scion FR-S 235.00 Points
13. Gushi, Ken GReddy Performance / Scion Racing Drift FR-S 227.50 Points
14. Saito, Daigo Achilles Radial Lexus SC430 224.00 Points
15. Field, Matt GoPro / Mobil 1 Chevrolet Camaro 221.50 Points
16. Essa, Michael Essa Autosport / Yokohama BMW M3 218.50 Points
For more information make sure to check out our friends at Formula DRIFT by visiting: www.formuladrift.com and find Formula DRIFT on Instagram @formulad, Facebook www.facebook.com/formuladrift and Twitter @FormulaDrift.
We're sharing a must watch video from the pros at www.drivingline.com. Video shot and produced by Dionne Mascunana @MascunanaBear