Cosworth Power Packages now available for the fa20
The FA20 / 4U-GSE powerplant is found in the Toyobaru twins ( the Scion FRS and Subaru BRZ ) and was developed by Subaru based on the FB engine. This horizontally opposed boxer engine is unique and leading the way with an unheard of 12.5:1 compression ratio. Combined with the lightweight balanced chassis of the FRS and BRZ, this engine has quickly become the focus of new tuners everywhere.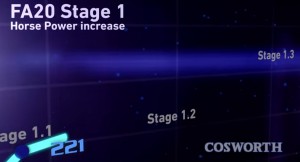 Making their way into the arena is Cosworth with their setup of Power Packages available for the naturally aspirated FA20. Building on the 1998cc engine and staying within the manufacturers redline limits of 7,450 rpm for early stages, Cosworth makes it easy to belt out more power.
Cosworth Racing is a world leader with a prestigious reputation built on over five decades of excellence, innovation and collaboration. The guys at Cosworth deliver high performance technologies to a diverse range of industries using their capabilities in mechanical and electronic engineering and precision manufacturing.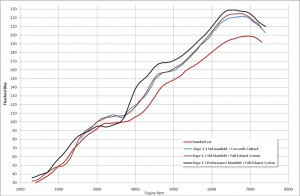 Stage 1 Power packages are now available, with later stages scheduled for release later in the year. 
Part#: 20044367 Stage 1.1/220bhp   MSRP: $2,799.00
Cosworth 220hp engine calibration files and programming kit

Cosworth low-temperature thermostat

Cosworth high flow air filter

Cosworth cat-back exhaust

Cosworth enamel car badge

Cosworth plaque uniquely numbered 'Kit #001' 
The Cosworth stage 1.3 bumps power output to 230bhp with just a few bolt-ons, a true testament to the balance and design of the Toyota D4-S injection system. Raising the bar from the factory horsepower numbers of 197bhp @ 7,000 rpm and a peak torque output of 151 ft-lbs @ 6,500 rpm, all without voiding your factory warranty? Sign us up!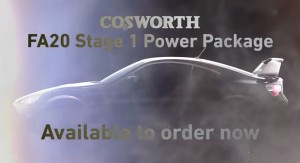 Part#: 20043947 Stage 1.2/225bhp   MSRP: $3,699.00
Power Package 1.1 plus:
Cosworth 225hp engine calibration files and programming kit

Cosworth combined overpipe and frontpipe exhaust
Part#: 20043948 Stage 1.3/230bhp   MSRP: $5,250.00
Includes Power Package 1.2 plus:
Cosworth 230hp engine calibration files and programming kit

Cosworth tubular exhaust manifold with thermal ceramic coating
These kits come complete with all the necessary hardware for install and are also available ala carte or with variations in the kit to meet the customers needs or budget. All of these orders are build to order meaning they are special order only and will require 30-60 days before delivery.
See Cosworths website for details.
http://www.cosworth.com/products/power-packages/fa20-platform/stage-1-power-package/
All Stage 1 Power Package options include:
"Power by Cosworth" Calibration Kit and Files
Programming kit complete with Cosworth calibration maps specifically engineered for Stage 1 Power Packages.
Cosworth Free Flow Sports Exhausts
Cosworth in an exclusive partnership with Nameless Performance, have engineered and manufactured manifold to tip, premium quality exhaust systems.
Cosworth High Flow Air Filter
Oil free, fully synthetic panel filter engineered to increase flow rated and dust catching efficiency.
Cosworth Low Temperature Thermostat
Cosworth LowTemp Motorsport Thermostats are engineered with the optimum temperature range in mind for high performance use.
Exclusive Cosworth Car Badge
High polish, hard enamel, genuine Cosworth badge exclusive to Cosworth Power Packages
Cosworth Authentication Engine Plaque
Numbered, lightweight anodised, Cosworth authentication plaque 
Need more information? Check out our listing here or give one of our ASE-certified technicians a call for further assistance!