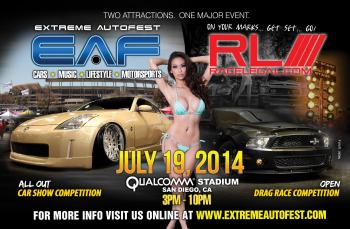 Extreme Autofest is one the California's longest running shows, with roots that run back well into the early 90s. We've always represented EAS as one of the more popular shows, and one that isn't afraid to push the boundaries of entertainment.
With hundreds of modified cars, trucks and bikes on hand and models galore, the May 31st show at Angel Stadium was also headlined by Xzibit.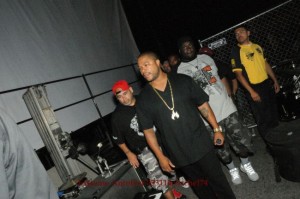 Xzibit is a name familiar to millions across the world. It belongs to a man who is as comfortable inside a recording studio booth as he is behind a television camera
He is a performer as likely to be seen on-stage thrilling listeners in Germany as he is on cinema screens in blockbuster franchise entries like XXX 2, The X Files: I Want to Believe and the upcoming 2013 film Code Name: Geronimo.  Let him tell it and Xzibit is simply "a self made man from poverty." A platinum recording artist first and foremost, "X to the Z" is also a superstar with a loyal worldwide fan base only a Hip-Hop icon could garner.
X first came to the attention of attentive Hip-Hop listeners as a member of the revered rap collective, The Likwit Crew. Founder and West Coast Hip-Hop veteran King Tee enlisted raucous group Tha Alkaholiks and newcomer Xzibit into the clique as original Likwit representatives. From there, the ferocious X unleashed his 1996 debut, At The Speed Of Life. Considered by many to be an underground rap classic, it spawned a definitive West Coast Hip-Hop classic, the cautionary "Paparazzi." "That song still elicits a crazy reception from my fans," says its creator. "It first blew up overseas, but ended up traveling everywhere. It's a timeless record."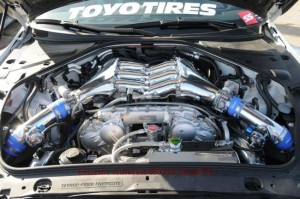 If you missed this past car show and all the action, cars, girls and entertainment that Extreme Autofest brings, don't fret because Qualcomm is right around the corner!

When attending car shows, it's best to get an idea of the layout and purchase tickets in advance. Click the link above for pre-show registration and the map giving you the layout you need to see the action that you want.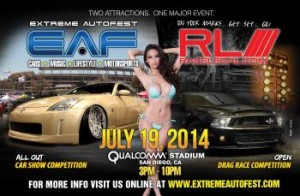 The Extreme Autofest Automotive Lifestyle Festival Saturday July 19, 2014 from 3pm to 10pm at Qualcomm Stadium in San Diego, CA featuring hundreds of show cars including tuners, euros, trucks, SUV's, lowriders, motorcycles, and an on-stage performance from California rapper Too Short!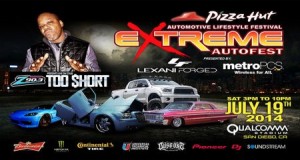 Also the Hot Bikini Contest, 1/8 Mile Drag Racing, Motorcycle Stunts, and a Lowrider Hop. Great food, the Budweiser Beer Garden, vendor village and live performances on stage.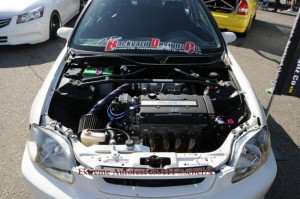 Autofest has created a competition for more than just cars, but for Trucks and S.U.V.'s as well. Both Domestics and Imports attend and compete for Best Mini, Best Full-Size, and Best SUV. From Customized Toyota Mini-Trucks on air-ride systems to Lincoln Navigators on 24″ Wheels, you will witness custom vehicles beyond your imagination!
We bring you coverage from our good friend of the program @schel74, look him up if you are in need of a photographer in the Socal region.
[slideshow_deploy id='3560′]
Enjoy and Happy Tuner Thursday from My Pro Street and @schel74!