The latest addition to the annals of what-the-hell cars we encounter on the Internet is this 462ci big block chevy powered 2009 Smart Car owned by Mark Cryer. The most incredibly crazy thing we've seen, the Smart drag car is sporting some serious meat in back. Big slicks aren't the only trick in it's book, because this Smart car has some serious modification done to it. In fact there's not much this Smart drag car has that's still original or from the factory.
When it comes to crazy drag machines we certainly put the Smart drag car at the front of the list. This thing must be incredibly crazy to drive and a handful to handle. What first started out as a cheap commuter has somehow transformed into the incredible Smart drag car you see in the video above.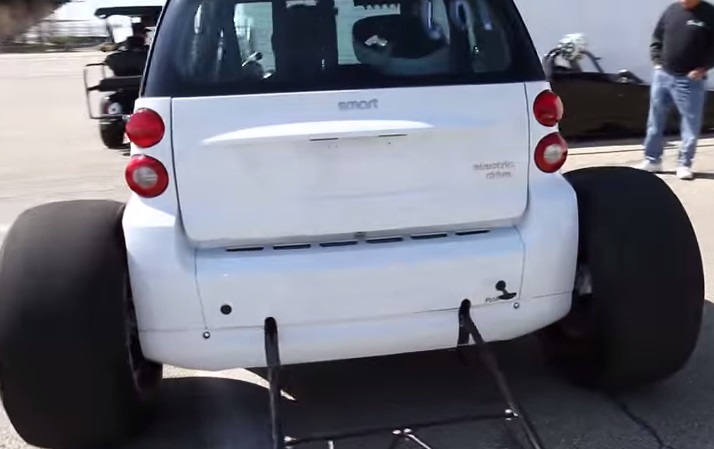 Equipped with a full custom 8.50 certified chrome moly frame and Ford 9″ rearend, Cryer pilots his unique Smart Car to a mid-11 second pass with trap speeds in the mid teens. While the ET isn't anything earth shattering, how often do you see a Smart car do it? Chances are this could be the only Smart drag car on the planet.
First run in video is an 11.74 @113.76 and then Mark and his son Nick changed front springs and made adjustments to shocks to try to get it to wheelie higher as you see in the second run.
The best run of the day was a 11.72@114.43, making this one Smart drag car you don't want to mess with! Could we see more power and faster times in the future? The owners say don't bet against them, and we sure wouldn't.
Check out more videos by subscribing to My Pro Street where we bring you the latest and greatest in racing videos and highlights daily.