PERRIN Performance manufactures and supplies the finest Subaru, EVO, and Nissan products on the market today. Their full lineup of products hits every aspect of performance modification for your car, whether it's getting the groceries or attacking the track, if you need it they have it.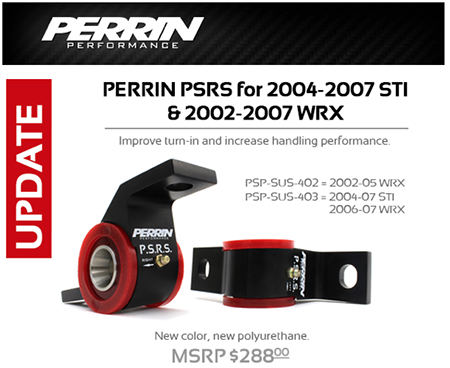 Perrin has updated their line of Positive Steering Response System (PSRS) bushings for several Subaru models. The precision urethane lower control arm bushings improve steering responsiveness in corners and refines straight-line tracking.
The bushings feature a CNC machined 6061 billet aluminum mount with Zerk grease fitting and Perrin's new red Delrin polyurethane bushing.
Part #: PSP-SUS-402 2002-05 WRX
MSRP: $288.00
Part #: PSP-SUS-403 2004-07 STI, 2006-07 WRX
MSRP: $288.00